Funding of up to $100,000 for Indigenous land-based projects, including property management planning, buying plant and equipment, or developing infrastructure.
Projects may include purchasing plant and equipment, or developing infrastructure to support viable enterprises on Indigenous-held land (e.g., fencing and construction).
Property management planning
Assists Aboriginal and Torres Strait Islander landholders to develop a plan for managing and using their property.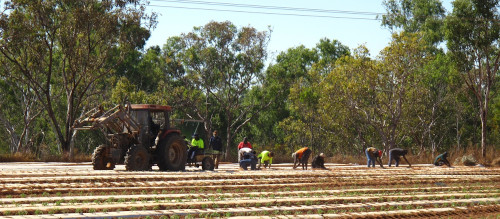 Urgent health and safety assistance
Funding is available for urgent health and safety issues on Indigenous-held land, where there is a risk to people or livestock. Requests for urgent health and safety assistance can be made at any time. Guidelines and an application form can be obtained by contacting the relevant ILSC office.
How to get funding for small projects
Funding can be sought at any time.  You will need to download the form and the Small Land-Based Project Grants Handbook (below).  Before sending in the form, you should discuss your project idea with the ILSC as you will require an caller ID number for the form. Please call the ILC on 1800 818 490 and to speak to a Land Management Project Advisor.
Small land-Based Projects Form
Small Land-Based Projects Handbook
Funding requests are assessed by taking into account the benefits delivered, the cost of the project, and the budget available. Funding is not guaranteed even if project ideas meet all criteria
Call now to discuss funding your project idea
The ILSC can assist funding requests
from an Aboriginal or Torres Strait Islander landholder, a government agency or a non-government organisation
that is effectively governed
can demonstrate capacity to manage the project, and
can demonstrate a need for land management assistance that cannot be met through the functions of other agencies.

Proposed land-based projects must
relate to managed use, care or improvement of Indigenous-held land and be agreed to by the Indigenous landholder
deliver achievable and sustainable economic, environmental, social and/or cultural benefits for Indigenous people
be viable, economically sustainable, and not require ongoing funding from the ILSC
comply with relevant commonwealth, state, and territory legislation and regulations
use sound land and environmental management practices
be of reasonable cost, given the benefits to be delivered.
What projects have been funded before?
The ILSC has funded a variety of land management projects across Australia. These include fencing, forestry, farming, materials and equipment purchases for enterprise development, and a variety of property planning activities.
Small projects funded in 2015
Congratulations to the 31 Aboriginal and Torres Strait Islander organisations across Australia that were successful in gaining small land management project funding 2015.
More than $1.4m was made available for a wide variety of projects.
Approximately 70% of funding supported property-based projects, and about 30% supported Prescribed Bodies Corporate.

PMP – Property Management Planning
PB – Property Based projects 
| Division | State | Project Name | PBC | Category | Description |
| --- | --- | --- | --- | --- | --- |
| CDO | NT | Kakadu Plums PMP – NT – 2015 | No | PMP | Development of a PMP to establish an enterprise for the sustainable harvest, processing and sales of Kakadu Plum products. |
| CDO | NT | Kurnturlpara PMP – NT – 2015 | No | PMP | PMP to establish and operate lucerne/fodder growing operation. |
| CDO | SA | Pundi Produce Infrastructure- SA-2015 | No | PMP | Development of infrastructure  (solar PV and shade structure) to assist in the growth of Pundi Produce aquaponics enterprise. |
| CDO | SA | Finnis Springs Infrastructure -SA -2015 | Yes | PB | Funding to build a multi-purpose community shed as part of Arabana community's restoration of the old Finniss Springs Mission. |
| CDO | SA | Emu Farm Infrastructure – SA -2015 | No | PB | Infrastructure (shed, tank and power connection) to support the establishment of a seed collection and storage facility on Emu Farm as part of Ceduna Aboriginal Corporation's broader revegetation activities. |
| CDO | SA | Leigh Creek Conservation Corridor – SA – 2015 | No | PB | Purchase of fencing materials to erect internal fencing on the station to protect areas of high conservation value from impact of grazing. |
| CDO | SA | Head of Bight – Infrastructure – SA – 2015 | No | PB | Construction of shade shelters and replacement of decking at whale watching tourism facility. |
| CDO | SA | Lambina Station Cultural Heritage Protection | Yes | PB | Assist native title holders to fence off three cultural heritage sites to protect from impact of cattle and feral herbivores. |
| CDO | SA | Vokes Road Machinery – SA – 2015 | No | PB | Purchase of a harvester and processing machinery for expansion of market garden business. |
| CDO | SA | Njinkali PMP -SA – 2015 | No | PMP | PMP to develop strategy for economic development on the Njinkali property. |
| CDO | SA | Lake to Lake PMP – SA – 2015 | No | PMP | To develop a PMP which sets out how Mt Serle and Myrtle Springs Stations will be integrated into a regional conservation strategy. |
| CDO | TAS | Gowan Brae LM – TAS – 2015 | No | PB | Infrastructure upgrade, road repair, and purchase of equipment to assist effective management of Gowan Brae. |
| CDO | TAS | Trawmanna (Mella Rd) Infrastructure – TAS – 2015 | No | PB | To construct new ablutions at the Trawmanna property to ensure the facility meets the needs of community activities. |
| CDO | VIC | Yielima PMP – VIC – 2015 | No | PMP | Development of a PMP for Yielima property focussed on establishing and managing a wattle seed and native plant enterprise. |
| EDO | NSW | Wonnarua Mine Rehabilitation LM 2015 | No | PB | Purchase LM equipment to allow maintenance and development of four properties owned by Wonnarua Nation AC in the Hunter Valley region of NSW. |
| EDO | NSW | Boomalli Fire Safety Standards LM 2015 | No | PB | Upgrade its premises at Flood St, Leichardt, Sydney NSW to comply with the Fire Safety Standards of the Building Code of Australia. |
| EDO | NSW | Coffs Harbour and District LALC Native Nursery 2015 | No | PB | Develop a native plant nursery on land it owns at Cox's Lane, Corindi Beach, NSW |
| EDO | NSW | Baryulgil LALC PMP 2015 | No | PMP | Develop a PMP for Collum Collum Station, a 5,500 ha property it owns near Grafton, NSW. |
| EDO | NSW | Biraban LALC PMP 2015 | No | PMP | Develop a PMP for 830ha of land it owns near Morriset, NSW. |
| EDO | NSW | Bega LALC PMP 2015 | No | PMP | Develop a PMP for the 58ha of land it owns at Wallgoot, near Bega, NSW. |
| EDO | QLD | Hope Vale Congress AC Ranger Base 2015 | Yes | PB | Erect a ranger shed and chemical shed, and purchase fencing materials in Hope Vale, QLD. |
| EDO | QLD | Delta Downs Fencing 2015 | Pending | PB | Fence off two culturally and ecologically significant wetlands, and a burial site on Delta Downs Station, Normanton, QLD. |
| EDO | QLD |  Jabalbina Yalanji Ranger Base 2015 | Yes | PB | Construct a ranger base for the Jabalbina Yalanji Ranger Program, which manages the 750,000ha Eastern Kuku Yalanji IPA between Port Douglas and Cooktown, North Qld. |
| EDO | QLD | Bribie Island Bora Ring LM 2015 | Pending | PB | Clean up a Bora ring on Bribie Island, near Brisbane, QLD. |
| EDO | QLD | Glengarland LM 2015 | Pending | PB | Repair and replace water infrastructure on the 90,100ha Glengarland Station, Cape York, QLD. |
| WDO | WA | Nyangumarta IPA Infrastructure & Equipment – 2015 | Yes | PB | Funding to purchase fencing material, basic equipment, tools and a trailer to support the Nyangumarta rangers land management activities. |
| WDO | WA | Malimup Springs Rebuild Infrastructure Development – 2015 | No | PB | Funding for critical infrastructure following extensive damage by wildfire in February 2015. |
| WDO | WA | Billiluna Community PMP – 2015 | No | PMP | Funding for a PMP for development of tourism/social enterprise at Billiluna Community |
| WDO | WA | Adelong and Pinjin Stations –  PMP for Water Sources Assessment – 2015 | No | PMP | Funding for a strategic assessment of existing water sources on Adelong and Pinjin Stations.  This assessment will assist and guide potential diversification of tenure from current pastoral lease to conservation and other land management uses such as tourism. |
| WDO | WA | Jidi Jidi Aboriginal Corporation PMP – 2015 | Yes | PMP | Funding to create a Caring for Country Plan in the eastern part of the Nharnuwangga Wajarri and Ngarlawangga (NWN) Native Title Determination Area.  The Caring for Country Plan will initially focus on the Collier Range National Park and areas of Unallocated Crown Land (UCL) adjoining the park to the south. |