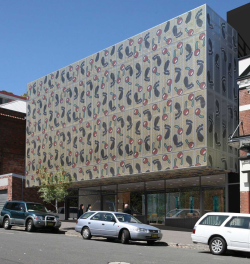 Sydney's major Indigenous broadcaster has relocated from a disused hospital to a $9 million, state-of-the art building constructed by the ILSC at Redfern.
Koori Radio 93.7 FM and Gadigal Information Services have moved into contemporary, purpose-built studios featuring an exterior designed by local Indigenous artist Adam Hill.
Gadigal and Koori Radio now provide an enhanced level of Indigenous broadcasting to the Sydney community and are developing their event management and recording businesses.
A radio training project supports Indigenous trainees to obtain a Certificate II in Broadcasting, and a music label project is providing employment and training in music production for Indigenous trainees.
The Cope Street site at Redfern was once home to the Black Theatre, the first Aboriginal theatre in Sydney, which hosted major International acts, including the legendary Roberta Flack, and first-run Indigenous plays in the 1970s.The original building burnt down in the 1980s.
The ILSC redeveloped the land to deliver long-term benefits for the Indigenous community, playing a part in Redfern's rejuvenation.
The development is helping ensure it is never forgotten the site was the birthplace of Indigenous theatre in Sydney back in 1972.
The design on the louvered exterior is based on the 1968 play The Cherry Pickers by Indigenous playwright Kevin Gilbert, continuing the tradition of Indigenous arts in Redfern.
The site was close to the heart of the late Charles Perkins who was instrumental in obtaining the site for the Redfern community.
Ongoing benefits supported by the project include Koori Radio's production of outside broadcasts at public schools in NSW delivering entertainment and positive life messages to 4,000 students each year.
The ILSC worked closely with the Redfern-Waterloo Authority to ensure Indigenous contractors were used and fourteen Indigenous training and employment opportunities were created during the construction phase of the new building.