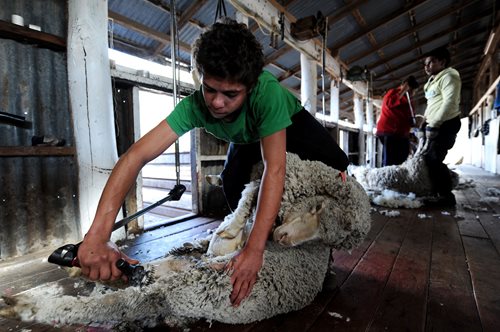 Merriman Station is an ILSC-purchased working sheep property near Brewarrina in north west NSW. The station is now the venue of an innovative shearing school that prepares young Indigenous people to work in the wool industry.
The Merriman Shearing School provides a three-week pre-vocational course followed by a 13-week practical training program covering shearing skills, workplace safety, wool handling, animal husbandry, fencing and life skills. Training and mentoring is delivered by an Indigenous shearing contractor Bateman Shearing Team, and is supported by MEGT and the University of Queensland which provide employment services and accredited training for the school.
Participants from NSW, QLD and as far afield as TAS, VIC and WA start the courses and graduate with a Certificate II in Rural Operations. All graduating participants are able to maintain a shearing rate of 80 sheep per day, an industry requirement.
Participants have the opportunity to compete in shearing and wool handling competitions at agricultural shows and events in NSW, QLD and VIC.
The courses see 80% of graduates placed in employment immediately upon completion. The majority of these are employed as shearers and wool handlers by shearing contractors.
"Our people have a proud history in the wool industry. I've been in the game since I was 14 and now I am one of the biggest shearing contractors in the country. Now I want to pass on my knowledge and my skills to the next generation – that's what the Merriman Shearing School is all about." Ian Bateman, Merriman Shearing School Trainer
"My grandfather is 60 and he's a shearer. This opportunity came along so I took it. It felt good to learn how to shear and use the wool press." Phil Colliss, Merriman trainee