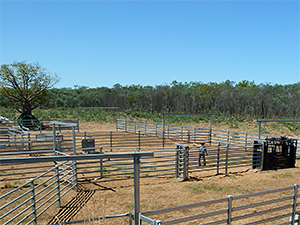 Mowanjum Station is a 51,000ha pastoral lease near Derby in the Kimberley Region of WA held by Mowanjum Aboriginal Corporation (MAC). The ILSC Board approved funding for MAC to reinvigorate the station's cattle venture to create a sustainable enterprise as a source of income for MAC and members of the community. As a result, Mowanjum will be under effective land management and the station brought back into production. Mowanjum Station infrastructure
The funding supported four water points, trap yards, bore roads and fencing for two new paddocks, one new trucking yard and a training shed.
The enthusiasm and commitment of the community has put the project on track for completion in half the original time.
The project will facilitate training for eight people in Certificate I and II in Rural Operations. Training will be delivered by MAC and Kimberley TAFE with support provided by the local Job Services Provider Derby Workforce.
A privately owned Indigenous contractor will receive increased revenue from its engagement at Mowanjum for management services to until 2018.