The Real Jobs Program (RJP), managed on behalf of the Australian Government, places unemployed Indigenous people in employment in the land management, tourism and agribusiness (pastoral and horticulture) sectors. The RJP's objective is to employ and train Indigenous people, and to build individual capacity to take up employment outside the RJP.
In 2018–19, the RJP provided $8.75 million for funding employment and associated training courses.
In the land management sector, the ILSC funded 74 ranger positions with seven organisations. Across the year, ranger groups completed a total of 184 land management activities, including biodiversity monitoring, fire management, pest plant and animal control, and cultural-heritage management.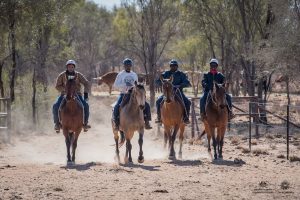 In the agricultural sector, 27 positions were contracted to the Northern Territory Cattlemen's Association (NTCA) and ILSC Agribusiness to develop career opportunities for young Indigenous people in the pastoral industry. In the horticultural industry, the RJP supported six positions at Tiwi Enterprises Pty Ltd.

In the tourism sector, 23 positions were contracted to ILSC subsidiary Voyages, Nitmiluk Tours Pty Ltd, Adina Vibe Hotel Darwin Waterfront Adina and Kakadu Tourism. Employees undertook various roles, including tour guiding, reception duties, events management, and kitchen duties.
Across the various sectors, ten organisations were involved in enterprise-development activities.
Organisations also deliver benefits to individuals, their families and communities. RJP organisations hosted 103 social and community events that were attended by 512 Indigenous people.
In December 2018, the ILSC held the third annual RJP Regional Forum in Darwin. The forum brought together 14 organisations to network and discuss the successes and challenges of the work of each group. The forum also heard from key industry bodies and support agencies.