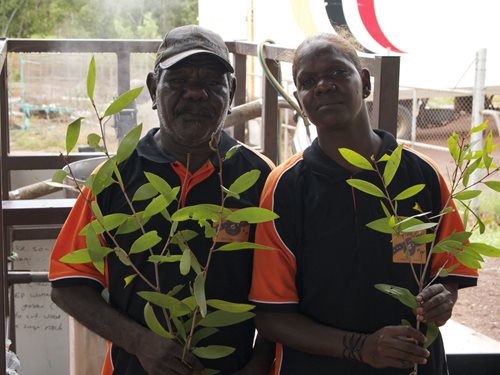 The ILSC has helped fund the construction of the Thamarrurr Wildlife Enterprise Centre in Wadeye, 400km south west of Darwin. The centre is a hub for community members where they can get involved in small enterprises using the resources of the Thamarrurr region.
The Thamarrurr Wildlife Enterprise Centre consists of a commercial kitchen, office, laboratory and crocodile egg incubator around a large covered work area. The centre creates an opportunity for the community to develop commercial enterprises in the sustainable use of the region's natural resources. Employees from Wadeye harvest and incubate crocodile eggs; harvest mi marral (Billygoat Plum), producing lip balms and soaps, and are establishing ku thithay (native bees or sugar bag) in hives.
Community members are employed casually to pick and process Green Plums and Billy Goat Plums, harvest crocodile eggs and distil the oils of native plants to produce soap, lip balm and other toiletries.
Training is conducted in a Certificate II in Aquaculture, focussing on the harvesting and incubation of crocodile eggs, and community members undertake trips to traditional country to harvest and monitor natural resources.