Environment, carbon and heritage
The ILSC works with Indigenous landowners, the Australian Government and industry to maximise opportunities for Indigenous people in the emerging carbon and environmental economy.
The ILSC provides support to Aboriginal and Torres Strait Islander people to assist in managing environmental and heritage values on their land. In doing so, it helps groups to create sustainable land-based economic development opportunities in payment for ecosystems service markets, including carbon farming and biodiversity offsets.
We seek innovative solutions to environment, carbon and heritage challenges, including the design and implementation of new projects, influencing policy, and enabling research and development. The ILSC Group also has corporate objectives and legal obligations relevant to environment, carbon and heritage that it must meet.
The ILSC's work in this area is guided by a Strategic Plan, which is updated annually. This plan frames the strategic issues and challenges that the ILSC faces in seeking to create value for Indigenous stakeholders in this area.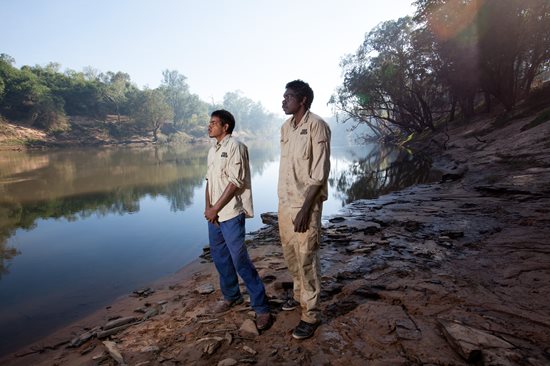 The ILSC is collaborating with Aboriginal and Torres Strait Islander land owners, the Australian Government, industry and the not-for-profit sector to maximize opportunities for Indigenous people in the emerging carbon economy.
To better understand the opportunity for Indigenous landholders to generate and sell carbon credits, the ILSC developed the Fish River Fire Project. Learning from this project is being shared with other Indigenous landholders to help them with their own projects. The Fish River Fire Project is also featured as a case study on myCFI.
The ILSC is also supporting the development of new credit-generating methods that will be available to Indigenous landholders.
The ILSC has significant capacity and actively engages with the ERF to enable Indigenous landholder participation by doing the following:
Providing significant financial and in-kind support to ERF method development, including methods for carbon abatement through controlled savanna burning, biosequestration, and conservation grazing;
Actively engaging in the development of new methods and other Government frameworks and processes;
Undertaking the first Indigenous carbon credit-generating project at Fish River in the NT, the Fish River Fire Project, with almost 70,000 credits sold and achieving significant co-benefits
Undertaking the Merepah Fire Project, which applies the savanna burning method on an operating cattle station on Cape York with over 30,000 ACCUs sold to date;
Sharing the lessons learnt from establishing the Fish River Fire Project and Merepah Fire Project and supporting other Indigenous organisations to engage with earn and sell carbon credits, including the Arnhem Land Fire Abatement (ALFA) Project, the North Kimberley Fire Abatement Project and assisting various Indigenous landholders on Cape York,
Considering other options for carbon demonstration projects in different landscapes and contexts
Providing leadership amongst Indigenous stakeholders to contribute to policy development in this area.
Emission Reduction Fund and the Carbon Farming Initiative
The Emissions Reduction Fund is the government carbon credit purchasing program; to date credit purchasing auctions have been held twice per year. Credits can be sold at an ERF auction to generate income through a carbon abatement contract. Carbon sales opportunities other than the ERF include secondary markets where companies seek to purchase credits to meet regulatory requirements or as part of producing carbon neutral products.

The Clean Energy Regulator is the independent statutory authority responsible for administering the ERF.
Some Indigenous land owners can get involved in the new carbon economy through doing fire management, forestry, vegetation management and cattle management projects on their lands. These land-based activities all offer opportunities for generating income under carbon offsets schemes while helping protect the cultural and environmental values of Indigenous-held land. If you are an Indigenous landholder and you have questions about carbon, or want to learn more about the possible carbon opportunities on your land, contact us at carbon@ilsc.gov.au.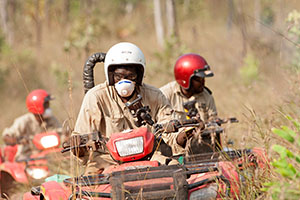 The ILSC is involved in the management of heritage through its land acquisition and land management activities. It is guided by federal and state legislative provisions and Traditional Owner wishes.
We believe it is important to ensure that heritage places owned or controlled by the ILSC (and its subsidiaries) are appropriately managed and conserved. Ongoing respect for heritage places, particularly as they relate to the lives of Aboriginal and Torres Strait Islanders, is an important component of the ILSC's policy and statutory framework.
Many ILSC projects are aimed at protecting and maintaining heritage values for the benefit of present and future generations of Indigenous people. These projects contribute directly to the ILSC's Priority Outcome: Access to and protection of cultural and environmental values.
We will continue to provide leadership in this area through Our Land Our Future and through collaborative partnerships that foster good practice in heritage management.
For more information, see the ILSC Heritage Strategy
Natural Resource Management
As part of the ILSC's strategy to deliver economic, environmental, social and cultural benefits to Aboriginal and Torres Strait Islander people, Australian Indigenous Agribusiness Company (AIA), an ILSC commercial subsidiary, operates 14 agricultural businesses around Australia on properties it either owns or leases from Indigenous landholders.
The agricultural businesses create employment and provide accredited training for Indigenous people, bring Indigenous-held land back into production, create sustainable Indigenous enterprises and develop the capacity of Indigenous landholders.
The agricultural business operations cover a total area of 2.15 million hectares of land and have a combined herd of approximately 100,000 head, including cattle and sheep. Most properties are in northern Australia and primarily represent arid or semi-arid rangelands ecosystems.
AIA, in partnership with the ILSC, is committed to demonstrating leadership by ensuring its agricultural businesses operate sustainably by fostering good practice natural resource management and by protecting important heritage values. In particular, we have regard to the concept of natural capital, which seeks to ensure that natural resource stocks, land and ecosystems are not degraded by business activities. For these agricultural businesses to be viable in the long-term, the ecosystems and resources on which they depend must be maintained.
Biodiversity offsets are measurable conservation outcomes resulting from actions that are designed to compensate for the residual impacts of development activities. They can be compliance-based or voluntary.

In 2012, the ILSC approved the registration of a BioBankingAgreement between Wonnarua Nation Aboriginal Corporation and the NSW Government on the title of ILSC-granted property Valley Arm.

The ILSC is an active member of the Australian Business and Biodiversity Initiative (ABBI). ABBI is an alliance of organisations and individuals from business, government and civil society. Its members are committed to exploring and promoting the integration of biodiversity and ecosystem service conservation and sustainability into business policies and practices in Australia. The Commonwealth Department of the Environment is currently the Secretariat of ABBI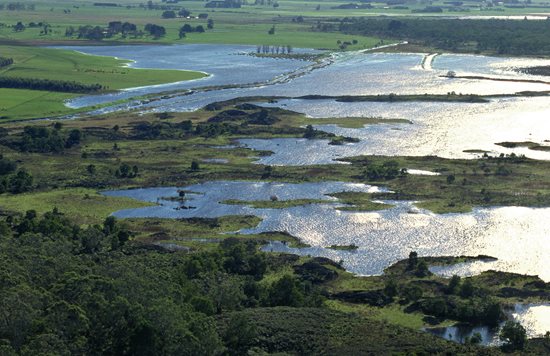 In 2014, the Senate Standing Committees on Environment and Communications announced an inquiry into the history, appropriateness and effectiveness of the use of environmental offsets in federal environmental approvals in Australia. The ILSC made a submission in response to the inquiry.

In 2014, the ILSC facilitated the delivery of a revegetation project funded by the SA Government's Native Vegetation Council's Offset Fund at Dibharra, Aboriginal land near Moonta on SA's Yorke Peninsula, The offset grant funded revegetation activities and was complemented by a small land management grant from the ILSC to provide basic facilities at the site.

The ILSC is currently in talks with weetapoona Aboriginal Corporation and Kingborough Council in Tasmania about the delivery of an environmental offset on Murrayfield Station on Bruny Island. The project will offset tree clearing that resulted from road widening works nearby, and help to restore an important cultural landscape area.

The ILSC is keen to assist Indigenous landholders to understand, navigate and engage with biodiversity offset markets, including through partnerships and by supporting the development of innovative demonstration projects. If you are an Indigenous landholder and you have questions about biodiversity offsets, please contact us to discuss your situation. 
 
Renewable energy is energy which can be obtained from natural processes that can be regularly replenished. Types of renewable energy sources include: biofuel, hydropower, solar energy, wind energy, ocean energy and geothermal energy.

Through its commercial subsidiaries, the ILSC operates 17 commercial businesses in agriculture and tourism around Australia. Many of these businesses operate on properties in remote areas without access to electricity. A significant amount of diesel and other fuel is required to power generators and for use in farm transport and agricultural machinery.

The ILSC is working with its subsidiaries to investigate opportunities to reduce its carbon footprint, including considering the potential to substitute biofuel for regular fuel to meet the energy demands of its agricultural businesses.

The ILSC is keen to collaborate with Indigenous landholders, other agencies and business partners to investigate opportunities for Indigenous people to participate in, and benefit from, the development of emerging renewable energy industries in Australia. In particular, the ILSC is keen to explore commercial opportunities to produce sustainable feedstock for biofuel on Indigenous-held land. 
Various human activities cause pollution that is altering the balance of gases in the atmosphere at a global scale. This pollution leads to a number of effects, which are predicted to cause climate change and the phenomenon known as global warming.

Australia is among the developed countries most vulnerable to climate change. Our climate is highly variable and predisposed toward extreme weather events and our ecosystems are finely balanced and often unique. Climate change will have direct social and economic costs for Australians, including Indigenous people, which need to be managed.

In conducting planning for ILSC-held properties, including the agricultural businesses operated by AIA, the ILSC seeks to assess climate change risk and incorporates specific management actions into its plans to enable property management to adapt to future change. The ILSC prioritises the protection of heritage values that may be threatened by the consequences of climate change on properties it owns or controls.

The ILSC is keen to collaborate with Indigenous landholders, other agencies and business partners to better understand climate change risk for Indigenous people around Australia and to help build the resilience of Indigenous landholders to cope with extreme weather events and the effects that a changing climate may have on food production systems and other land uses.
Indigenous peoples' connection to country includes connection to water. Access to water resources for cultural and economic purposes is important to support the aspirations and wellbeing of Indigenous people and, as such, Indigenous people are key stakeholders in water planning and management.

The ILSC notes the National Water Commission's position on Indigenous access to water resources in Australia, which gives priority to water for culture and water for economic development. The ILSC is keen to collaborate with Indigenous landholders, other agencies and business partners to investigate opportunities for economic development associated with water rights and allocations for Indigenous people, and to better understand the importance of water flows to protect cultural and environmental values on Indigenous-held land.
Protected Area Management
Australia's National Reserve System (NRS) is a network of protected areas covering approximately 16.5% of the country. It consists of National Parks, state and territory reserves, Indigenous Protected Areas (IPAs), biosphere reserves, World Heritage Listed areas and areas on privately owned properties that have been set aside for conservation.

An IPA is an area of Indigenous-owned land or sea where traditional owners have entered into an agreement with the Australian Government to promote biodiversity and cultural resource conservation. IPAs make a significant contribution to Australian biodiversity conservation, making up over a third of Australia's NRS. There are currently 60 declared IPAs covering over 48 million hectares across Australia. The IPA program is part of the Australian Government's Caring for our Country initiative.

Through its Land Acquisition program, the ILSC has acquired four properties in collaboration with the NRS and other partners:
Tallaroo Station, QLD
Mawonga Station, NSW
Gowan Brae, TAS
Fish River, NT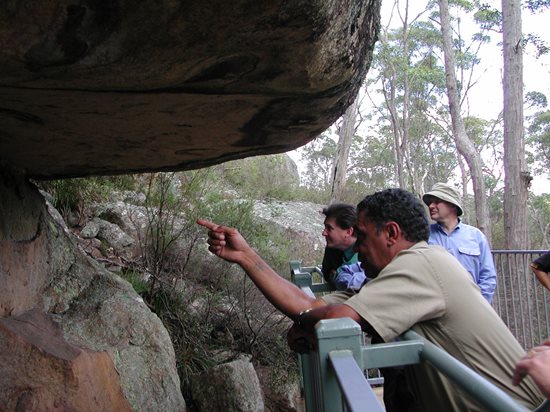 Further, a number of properties that were acquired and divested by the ILSC have since been (or are about to be) declared IPAs by the Indigenous owners, including: Wattleridge (NSW), Toogimbie (NSW), Minyumai (NSW), Weilmoringle (NSW), Dorodong (NSW), Boorabee (NSW), Murra Murra (Jamba Dhandan Duringala) (QLD), Talaroo Station (QLD) and Mawonga Station (NSW).

The ILSC is keen to collaborate with Indigenous people, other agencies, environmental groups and business partners to explore sustainable funding models for protected areas on Indigenous-held land. In particular, through OLOF, the ILSC encourages and supports economic development opportunities that are compatible with conservation, such as eco-cultural tourism, payments for ecosystems services and sustainable food production, including low-level grazing.