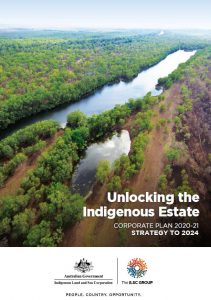 The ILSC Corporate Plan is updated annually to provide a clear pathway to achieving the ILSC vision.
Corporate Plan 2020-21,  Strategy to 2024
Under the provisions of Section 40 of the PGPA Rule, the ILSC deferred the publication of its 2020-21 Corporate Plan to 30 October 2020. This deferral resulted from the impact of COVID-19 on the operations of the ILSC, most particularly its subsidiary entities operating in the tourism and social services sectors. The deferred publication of the 2020-21 Corporate Plan enables the performance forecasts of the Plan to take account of the impacts of COVID-19 on the Indigenous Estate. The activities and priorities of the Plan focus on supporting the resilience and adaptation of Aboriginal and Torres Strait Islander enterprises as the wider economy begins to recover from the impacts of the pandemic.