The ILSC (previously the Indigenous Land Corporation), is a corporate Commonwealth entity established in 1995 to assist Aboriginal and Torres Strait Islander people to realise economic, social, cultural and environmental benefits that the ownership and management of land, water and water related rights can bring.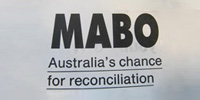 Mabo judgement
On 3 June 1992 the Mabo judgment by the High Court of Australia recognises Aboriginal and Torres Strait Islander traditional title to land had survived British settlement. However, the judgment said some extinguishment of traditional title had occurred.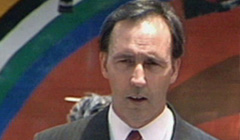 The Land Account and ILC established
In February the Keating government responds to the Mabo judgement, in part, by establishing the The Land Fund and Indigenous Land Corporation (ATSIC Amendment) Act 1995 and creating the ILC. The Land Fund, now called the Land Account, aims to help Indigenous people to acquire land and manage it in a sustainable way, to provide economic, social and cultural benefits for themselves and for future generations. The Land Fund receives money from the Federal Budget for the next 10 years to establish a capital base.
The Indigenous Land Corporation began operations
The ILC begins operations on 1 June 1995
First ILC Board meeting
The first Board comprising David Ross (Chair), Peter Yu (Deputy Chair), Lowitja O'Donoghue, Noel Pearson, and Steve Gordon meets on 4 June. Their focus is on land acquisition, as land management remained an ATSIC responsibility until 1 July 1997.
First National Indigenous Land Strategy (NILS)
The first NILS covering the years 1996-2001 is tabled in Parliament by the Minister for Aboriginal and Torres Strait Islander Affairs, Senator the Hon. John Herron, on 6 May 1996. A companion series of seven Regional Indigenous Land Strategies based on the NILS is approved by the Board in June 1996.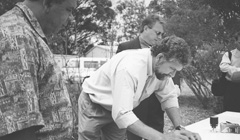 First land purchase and grant
West Swan Primary School, near Perth in WA is purchased on behalf of the Manguri Land Enterprises Incorporated. It was granted to them in November 1996.
Second ILC Chair and Board appointed
Sharon Firebrace appointed as ILC Chair along with four new Directors.
Second National Indigenous Land Strategy
The ILC's Board revises the first National Indigenous Land Strategy. The new NILS reflects a shift from purely acquisition to long-term, sustainable land use planning.
Third ILC Chair and Board appointed
Shirley McPherson appointed Chair of the ILC Board in August 2001. The Board focuses on building landholder capacity and on delivering economic benefits from land. Applications for urban property increase and in 2005-06 almost half the land purchased in the previous three years was urban.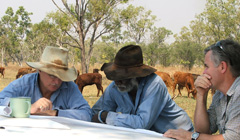 Kimberley Indigenous Management Support Services
In January 2003, the ILC signs a three-year agreement with the WA Agriculture and Food Dept. for KIMSS to support commercial pastoral activity across Indigenous-owned stations. Now called the Indigenous Landholder Service, it delivers extension services and land management funding across six large regions of WA and around 70 Indigenous-owned properties.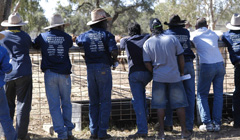 Major emphasis on employment and training
The ILC initiates the IPP with the Northern Land Council, Central Land Council, Northern Territory Government, the Northern Territory Cattlemen's Association and Commonwealth Department of Employment. The IPP increases production on Indigenous-owned NT cattle properties to provide employment and training in the pastoral industry.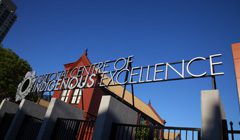 Redfern Public School purchased
The ILC purchases the former Redfern Public School in Sydney. The purchase is part of a strategy to address the disadvantage of city-based Indigenous people. The ILC funds construction of the National Centre of Indigenous Excellence. The NCIE runs sporting, educational, cultural and leadership programs to benefit young Indigenous people from around Australia.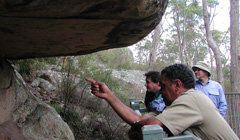 Indigenous Protected Areas partnership
The ILC enters into a three-year partnership with the Commonwealth Department of the Environment to develop at least 10 new IPAs. By 2009, 19 IPAs are declared.
National Indigenous Land Strategy 2007-2012
The NILS 2007-2012 focuses on the delivery of education, training and employment outcomes from Indigenous owned and managed land and on monitoring of benefits achieved.
Black Theatre Building
Work starts on the site of the former Black Theatre in Redfern, Sydney, a groundbreaking urban Indigenous cultural site in the 1970s and 1980s. The ILC constructs a three-storey, multi-purpose office building to house Indigenous organisations including a purpose-built radio station and training facility for Gadigal Information Service which broadcasts Koori Radio.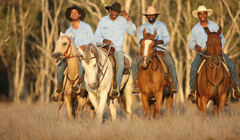 Training to Employment program rolled out
The ILC allocates $9 million over three years to expand the T2E model to 12 ILC-run businesses.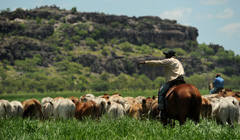 New businesses open at Gunbalanya
Gunbalanya Station and Meats is established and trains and employs pastoral and meat workers from the Gunbalanya community.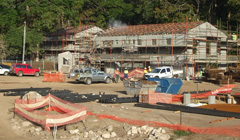 Mossman Gorge Centre project begins
Land near the Mossman Gorge Aboriginal Community is purchased to build a cultural and environmental tourism hub to be staffed by local Indigenous people, and to offer training in hospitality for young Indigenous people.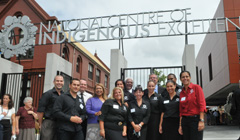 National Centre of Indigenous Excellence opens
In January 2010, the NCIE opens for business. The NCIE develops as a respected institution in Redfern and nationally, visited by 5000 Indigenous young people each year.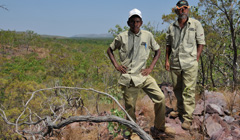 Fish River acquired
The ILC acquires the Fish River wilderness property in partnership with the Commonwealth Environment Department and a number of charitable environmental groups. The property becomes a model of managing the environment and for Indigenous economic benefit from carbon credits.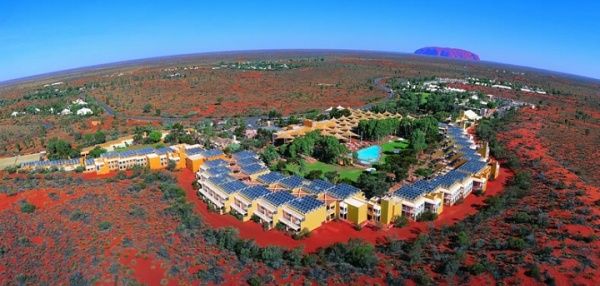 Ayers Rock Resort purchased
The ILC buys Ayers Rock Resort to provide employment and training benefits for Indigenous people nationally. A new subsidiary, Voyages Indigenous Tourism Australia is created to operate the ILC's tourism portfolio. A training academy is established at the resort to provide young Indigenous people with accredited training in hospitality and the resort significantly increases its level of Indigenous staff. When the ILC buys the resort Indigenous employees represent 1% of the workforce. Indigenous employees now represent 32% of the workforce.
Fourth ILC Chair and Board appointed
Dr Dawn Casey is appointed as ILC Chair along with three new Directors. A further two new Directors are appointed in 2013.
T2E program expanded
In June 2011, an additional $8.6 million extends the T2E program for three years. The extended initiative includes establishing a shearing training school at Merriman Station near Brewarrina, NSW. Trainees are provided with board, wages, and training integrated into the operation of the businesses.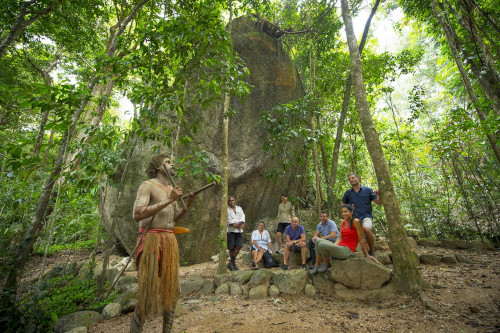 Mossman Gorge Centre opens
Mossman Gorge Centre opens in June 2012, with 90% Indigenous staffing. More than 240,000 people go through the doors in the first year of operation.
New 2013-17 National Indigenous Land Strategy
The 2013-2017 NILS is released with a stronger focus on collaboration across regions with Indigenous organisations, government agencies and industry bodies, and includes a new ILC Native Title Policy.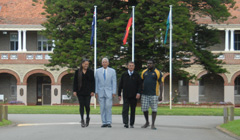 Clontarf College WA gifted to ILC
The Christian Brothers organisation in Perth gifts a valuable inner-city property to the ILC, including land and historic buildings belonging to Clontarf College, founded in 1901 on the banks of the Canning River. The Clontarf College site is a multi-use campus which houses major Indigenous service-delivery organisations in WA.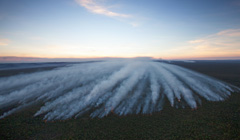 Australia's first sale of carbon credits
In an Australian first, the ILC sells 25,884 Australian Carbon Credit Units from the Fish River Fire Project to Caltex Australia. Sales of ACCUs have continued each year, providing revenue for land management, training and jobs on the property.
Review into ILC and Indigenous Business Australia
In December 2014, the Minister for Indigenous Affairs, Senator the Hon. Nigel Scullion, announces a review of ILC and IBA One aspect of the review is to examine the option a merging the two agencies. The government later decides not to proceed with a merger.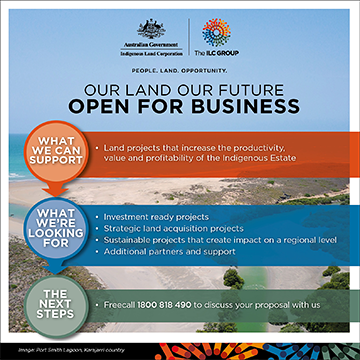 Our Land Our Future
The ILC's Our Land Our Future program is launched. The ILC supports land acquisition and management projects by funding projects, working with co-investors or via enterprises under partnerships or a subsidiary. The Board commits up to $30 million over three years for land-based projects over $100,000.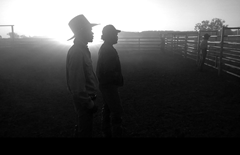 First Board meeting for NIPE
National Indigenous Pastoral Enterprises (NIPE) becomes a fully-functioning subsidiary with its own Board of Directors chaired by ILC director Neil Westbury.

Our Land Our Jobs
The Our Land Our Jobs program (formerly T2E) is launched as a central part of the ILC's operations. OLOJ operates at training centres on ILC properties and businesses and guarantees a job offer on an ILC enterprise or with other employers.