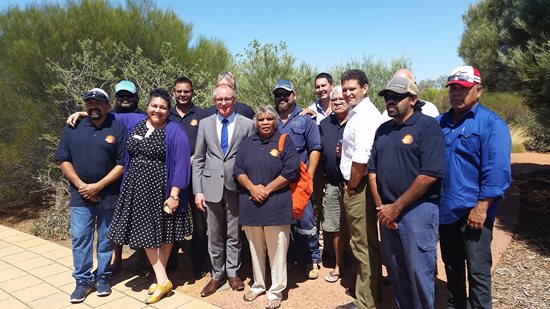 The ILC has welcomed additional State Government funding of $2.25 million over the next three years, to help grow Indigenous agricultural training and business outcomes in regional and remote communities in SA.
The North West Indigenous Pastoral Project (NWIPP) has trained and employed 67 Indigenous pastoral workers and aided the return of more than 272,000 hectares of Indigenous land back to commercial primary production since its establishment in 2015.
The NWIPP is currently helping deliver primary industries training, employment and long-term business development for six Indigenous-owned properties: Andamooka, Purple Downs and Roxby Downs Stations (Kokatha Pastoral Pty Ltd); Emeroo Station near Pt Augusta (Bungala Aboriginal Corporation); Mabel Creek Station near Coober Pedy (AMY Nominees Pty Ltd) and parts of the APY Lands (Anangu Pitjantjatjara Yankunytjatjara) in the State's north west.
The ILC is a partner in the project, helping administer the program, and has previously provided more than $800,000 in complementary funding for property management planning, plant, equipment and infrastructure development to enable land to be brought back into production.
ILC Chairman Eddie Fry has welcomed the SA Government's extension of the NWIPP program and said it will attract investment to realise the potential of Indigenous-held land.
"The new funding will support business management and exposure to pastoral industry networks to create sustainable career pathways for local Indigenous people while recognising and utilising their knowledge and connection to country," he said.
"We are proud to be in partnership with the SA Government and their ongoing commitment means that work can continue to build the productivity and sustainability of valuable Indigenous-held properties and to continue to derive Indigenous benefits such as training, employment and enterprise.
"The new funding will help properties to continue to deliver pastoral improvements, increase stock numbers, take on new trainees, identify new business opportunities and work towards financial self-sufficiency", Mr Fry said.
The State Government has committed almost $2.9 million to the NWIPP since 2015.
SA Premier Jay Weatherill said the long-term outcomes for the region and state, especially in terms of Indigenous employment, economic returns and the environment were clear.
"The funding commitment of $2.25 million for the next three years is a win for all involved, and for the entire State. It's an absolute pleasure to help secure another three years for such an important and effective program," Premier Weatherill said.
Additional support and collaboration throughout the NWIPP has been provided through the Work for the Dole Program, Natural Resources Alinytjara Wilurara, TAFE, BHP Billiton and ILC's agricultural subsidiary Australian Indigenous Agribusiness Company Pty Ltd.