The ILSC has established an emergency response grant for any Indigenous corporation whose property has been directly affected by the recent bushfires. A grant of up to $20,000 will be available to assist Indigenous corporations to immediately secure and clean up damaged properties.

The ILSC will also make available a grant to assist Indigenous land management groups and contractors assisting the vital recovery efforts with much needed equipment.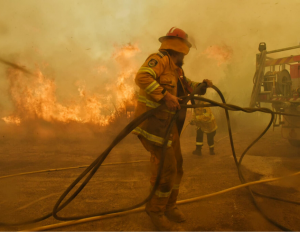 All at the Indigenous Land and Sea Corporation (ILSC) are deeply saddened by the bushfires that are currently devastating communities around the country, resulting in the tragic loss of human life, homes, businesses, wildlife and bushland.
In response, the ILSC has established the 2020 Bushfire Emergency Response Grant for Indigenous corporations whose property has been directly affected by the recent bushfires and for Indigenous groups aiding the recovery efforts.
Eddie Fry, Chair of ILSC and Indigenous Business Australia (IBA), said a grant of up to $20,000 would provide immediate support for Indigenous corporations who have experienced the loss of or damage to property through the current bushfires.
"We are deeply saddened by the recent bushfires devastating communities across Australia. We know that many Indigenous Australian communities have been directly affected and many people may be displaced as a result," Mr Fry said.
"Through the ILSC's 2020 Bushfire Emergency Response Grant for Indigenous properties, and IBA's Bushfire Crisis Grants for its business finance and home loan customers, both organisations will provide immediate and much needed assistance to Indigenous Australians."
The loss of and damage to Indigenous properties have had an immense impact on Indigenous businesses, as well as flora, fauna and cultural and environmental sites important not just to Indigenous nations but all Australians.
The road to recovery for affected Indigenous lands will be long, and will require the efforts of many, but this ILSC grant assistance will provide easy access to funds for Indigenous corporations in this time of need, and are not restricted to corporations currently working with the ILSC.
The ILSC will look to assist Indigenous landowners in the coming months and years. However, mindful of the immediate needs, the ILSC will provide urgent assistance to help secure properties and clean up the devastation.
In addition to the grants, the ILSC is offering urgent assistance with sourcing services such as sub-contractors to organisations that have been directly affected by the bushfires.
Minister for Indigenous Australians, the Hon. Ken Wyatt, said the ILSC and IBA support initiatives had his full support.
"The current bushfire emergency is devastating communities all across Australia and many Indigenous Australians are vulnerable to the immediate and ongoing hardships this disaster has caused. It is great to see IBA and ILSC supporting people when they need it most" Minister Wyatt said.
"It is great to see organisations, including the IBA and ILSC supporting people when they need it most, and helping communities rebuild following these unprecedented natural disasters. I encourage any Indigenous Australians impacted by the bushfires to access available government assistance."
Indigenous corporations who have been directly impacted by the current bushfire emergency and are seeking assistance should contact the ILSC on 1800 818 490 or EDOAdmin@ilcorp.gov.au.
During this immediate period ILSC staff will be available to take enquiries seven days a week, from 9am to 8pm (AEDT).
For more media information, please contact:
Anthony Fisk on 0468 989 250.