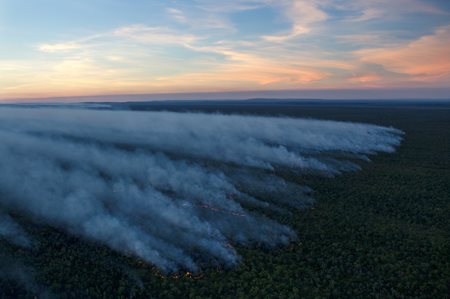 The Savanna Fire Management (SFM) programme is a partnership between the INPEX-operated Ichthys LNG Project and the Indigenous Land Corporation (ILC), which is a corporate Commonwealth entity.
The Ichthys LNG Project will fund annual instalments of around $2 million through a trust to support the SFM programme for up to 20 years. Perpetual Trustee Company Ltd, as the appointed trustee, has engaged the ILC to manage and deliver the SFM programme.
Minister for Indigenous Affairs, Nigel Scullion, in announcing the initiative today, applauded the public-private partnership as a real win for Indigenous Territorians.
"The $34 million Savanna Fire Management programme will create jobs and business opportunities for regional communities. Importantly these are opportunities in carbon farming industries which are all about people caring for country," Minister Scullion said.
"I am really excited because this partnership combines the financial commitment of the INPEX-operated Ichthys LNG Project with the ILC's experience of working with Indigenous communities, creating significant work opportunities for Territory First Australians.
"I congratulate the Ichthys LNG Project and the ILC for their leadership in developing this innovative approach and I encourage other firms that may be looking to do business with Indigenous communities to contact my office and let us help broker a solution."
ILC Chairman Eddie Fry, said the SFM programme was an exciting opportunity to shape the future of landscape-scale fire management in the Territory and make a real difference in enabling Indigenous people to engage in the carbon economy.
"The ILC sees carbon farming as a productive land use that can be combined with other, more traditional types of agribusiness," Mr Fry said.
"Not only can carbon enterprises create commercial benefits for Indigenous people, they also reduce greenhouse gas emissions and help protect biodiversity and cultural sites.
"We are looking to better position Indigenous people in the carbon economy. This includes building the capacity of Indigenous land-based businesses in the Northern Territory more broadly."
The ILC has opened an office in Darwin and started working with Indigenous stakeholders on the SFM programme. Eligibility and selection criteria will apply to Indigenous groups wishing to participate.
The SFM programme will help Indigenous groups to plan and implement their fire projects, creating new jobs and economic development opportunities.
Funds will be available to support feasibility assessments, business planning, training, fire management operations and the purchase of plant and equipment for Indigenous groups.
The SFM programme is part of a package of long-standing environmental and social initiatives funded by the Ichthys LNG Project that has been developed in conjunction with the Northern Territory Government.
The programme illustrates the Ichthys LNG Project's ongoing commitment to building multi-generational outcomes for Aboriginal and Torres Strait Islander people. It forms part of a broader package of environmental and social initiatives developed by the Ichthys LNG Project in conjunction with the NT Government.
"The INPEX-operated Ichthys LNG Project is proud to contribute $34 million to build sustainable opportunities for Aboriginal and Torres Strait Island peoples throughout the Northern Territory," INPEX President Director, Australia, Seiya Ito, said.
Strategic burning early in the dry season when conditions are cool and grass has not yet dried off can help to prevent large wildfires that burn out of control late in the dry season. These hot fires damage the landscape and release high volumes of greenhouse gases into the atmosphere each year.