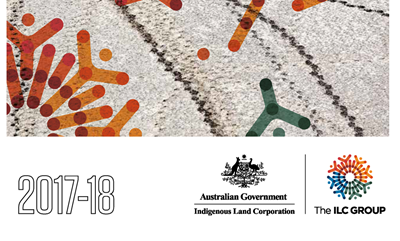 The ILC's Annual Report for 2017-18 has been tabled in Parliament and is now available for download. 
The ILC Group can be proud of its collective achievements in what has been a significant year. See the table below for specific details of what has been achieved.
Legislation was introduced to Parliament that, if passed, will advance two major reforms long sought by the ILC.
The Bills currently before Parliament aim to secure the ILC's main source of income from the Land Account and to extend our activities to salt and fresh water. If passed, this legislation will also see the ILC's name changed to the Indigenous Land and Sea Corporation.
In February 2018, the ILC tabled the National Indigenous Land Strategy 2018-22 based on our vision to be the trusted partners in growing and realising the potential of the Indigenous Estate—the land as well as intangible assets such as culture held collectively by Aboriginal and Torres Strait Islander people.
Over the last couple of years the ILC has worked diligently to build its financial health and thus its capacity to invest strategically into the Indigenous Estate. We are adopting a growth mindset which is evident in an increase in both our activity and demand relating to land acquisition, land management and property divestment assistance.

In 2018–19 and future years we will be undertaking a greater number of land acquisitions, while supporting more innovative and commercial land management projects. With a strong pipeline of projects, our investment and performance against mandate will be significantly greater in the coming years.

Eddie Fry
ILC Chairperson
The full Annual Report is available here.
ILC by the Numbers – 2017-18
| Category | 2017-18 |
| --- | --- |
| Properties acquired | 2 |
| Projects, acquisition and management of land | 156 |
| Land grants | 5 |
| Properties approved for grant, in addition to those approved in 2016-17 | 6 |
| Training completions | 3528 |
| Jobs from ILC-funded projects | 630 |
| Indigenous people employed in ILC Group | 845, 44% 30 June |
| Indigenous enterprises assisted | 123 |
| ILC projects in partnership with business, government, non-government enterprises | 51% |
| Ayers Rock Resort occupancy | 89% |
| ILC projects protecting the environment and/or Indigenous culture | 42% |
| ILC agricultural businesses on Indigenous-held land, by area | 21,500 km2 |
| Participated in activities at NCIE | 9139 |
| ILC Group spending with Indigenous businesses | $14.7m (11%) |
| | |