The Indigenous Land and Sea Corporation (ILSC) has officially signed an agreement with Balanggarra Ventures, a subsidiary of Traditional Custodian group Balanggarra Aboriginal Corporation RTNBC (BAC), to take over management of the Home Valley tourism facility on the iconic Home Valley Station in the East
Kimberley.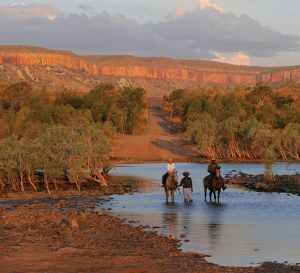 This agreement will see the Home Valley tourism facility reopen this season, with Traditional Custodians replacing the ILSC's subsidiary Voyages Indigenous Tourism Australia Pty Ltd, after eight years of management.
The Home Valley tourism facility sits on the 249,000 hectare Home Valley Station about 120 kilometres south of Kununurra on the Gibb River road and features 36 rooms, campgrounds, a swimming pool, conference facilities, a general store and the famous Dusty Bar and Grill.
Sitting on the majestic country of the Balanggarra and the Wanjina-Wunggurr Wilinggin peoples, its management now by Balanggarra, puts Traditional Custodians front and centre in building its tourism offerings.
BAC is the recognised native title holding body for the Balanggarra people, covering an area of land that extends over 2.5 million hectares across the north-east Kimberley region.
BAC subsidiary Balanggarra Ventures was the successful applicant through an expression of interest process and has now officially taken over management of Home Valley tourism facility, hiring and training around 30 staff, 85% of whom are Indigenous.
The tourism company has recently had its camping license approved by the local Shire council and is currently trialling a soft opening with small tour groups.
Balanggarra Aboriginal Corporation chairperson Cissy Gore-Birch said Traditional Custodians were extremely proud to have such a unique tourism asset on traditional lands now under the management of local people.
"Home Valley is the gateway to Balanggarra country, and we are very committed to managing it in a way that honours our local culture and our country," she said.
"We are doing things differently; we are directly engaging our people to involve them in this project and to help us to ensure Home Valley is a unique Aboriginal managed and run tourism experience."
ILSC Group CEO Joe Morrison said the ILSC originally purchased the Home Valley pastoral lease with the purpose of returning the property to Traditional Custodians into the future.
"The ILSC is proud to have established an iconic tourism asset in such a picturesque location on the Gibb River road that is well placed now, under the Traditional Custodian's management to realise greater social, cultural and economic benefits for the local Indigenous community," he said.
"With Home Valley tourism facility closed due to COVID-19 its re-opening under the management of Traditional Custodians is poignant, representing a new era for Traditional Custodians as agents of cultural tourism opportunities on their country."
Balanggarra Ventures has opened online bookings this week, and is taking reservations for the current season, which this year will run from 21 June until October 2021.
Bookings can be made by visiting: www.hvstation.com.au