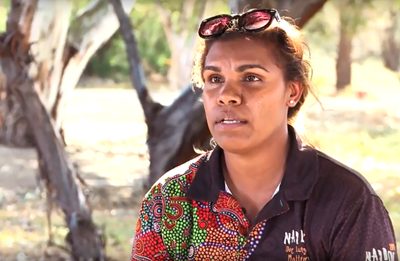 Darrylin Gordon is the WA winner of the AgriFutures Rural Women's Award for 2018, Australia's biggest award acknowledging and supporting the essential role women play in rural industries, businesses and communities. 

Darrylin (at right ) is a Jaru woman who works at Lamboo Station 50km from Halls Creek in WA on her traditional country.
The award acknowledges innovative ideas and projects and gives Darrylin a bursary and access to professional development opportunities and alumni networks.
Darrylin aims to use the win to boost her work setting up an on-station community training and empowerment program for local Indigenous people's success in the cattle industry and life.
Darrylin is also a big contributor to the Business Management and Advisory Project (BMAP), a support network set up by Indigenous business men and women, with the assistance of the ILC and the Australian Indigenous Agribusiness Pty Ltd, so they can become professional pastoral business managers.
She spoke powerfully at BMAP's Indigenous Cattlemen's Workshop last year about the importance of Indigenous pastoralists networking together and with the cattle industry.
Hear what Darrylin and other BMAP participants had to say in the video below.