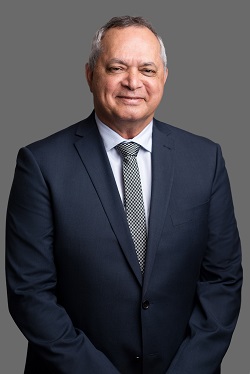 Indigenous Affairs Minister, Nigel Scullion, has announced the reappointment of Edward (Eddie) Fry as Chairperson of the Indigenous Land and Sea Corporation (ILSC) and appointed Roy Ah-See from NSW and Daniel Tucker from WA as new Directors. Returning ILSC Chairperson, Eddie Fry, has extensive experience within the Australian resource sector, specialising in Indigenous affairs and native title matters and holds positions in numerous other corporate bodies, including serving as Chairperson of Indigenous Business Australia (IBA).
Mr Fry welcomed the appointments of Mr Ah-See and Mr Tucker as Directors and lauded the wealth of experience at the highest levels in corporate governance and business the new Directors brought to the Board.
"Roy Ah-See, a Wiradjuri man from Nanima Reserve is the Co-Chair of the Prime Minister's Indigenous Advisory Council, a Director of IBA and has been the Chairperson of the NSW Aboriginal Land Council since 2015," Mr Fry said.
"Daniel Tucker from Kalgoorlie is the founder and Managing Director of Carey Mining, the biggest 100 per cent Indigenous privately-owned and managed contracting company in the country."
"Their experience will prove invaluable in the ILSC's efforts to create meaningful long-term employment and training opportunities for an increasing number of Indigenous people through its continuing function of land acquisition and divestment, and our new extension into water-based projects."
Mr Fry also praised the two men for their work contributing to the social welfare of Indigenous people and the community at large.
"Mr Ah-See has qualifications in social welfare and was a member of the Advisory Committee for the Australian Law Reform Commission's Inquiry into the incarceration rates of Aboriginal and Torres Strait Islander people.
"He believes land rights and connection to country are integral to the spiritual healing and cultural empowerment of Aboriginal peoples.
"Mr Tucker is the founding member of not-for-profit organisation Caring Communities Incorporated and believes strongly in ethics in business and the effectiveness of mentoring as a way of training his management team and members of the Aboriginal community."
"He also established the Wongatha Education Trust in 2007, which offers scholarships to Indigenous students studying business and helps primary school aged children to attend school."
Mr Fry acknowledged outgoing Directors Tanya Hosch and Anthony Ashby for their contributions as ILSC Directors.
"Ms Hosch has been a strong advocate for respectful stakeholder engagement, and has provided valuable guidance to the ILSC on this front. We wish her well in her continuing role as General Manager of Inclusion and Social Policy with the Australian Football League," he said.
"The impact of Mr Ashby's wealth of knowledge as an experienced Chartered Accountant can be seen throughout the work we were able to achieve during his time with the ILSC and we remain grateful for his work as an ILSC Director.
"Tanya and Anthony, alongside their fellow directors, can be particularly proud of their advocacy that delivered three pieces of transformational legislation in November 2018. These Bills have allowed the Corporation to both expand into water-based projects, and to better secure our ongoing financial position for the benefit of Aboriginal and Torres Strait Islander people."
Ends
Background notes:
ILSC Director, Mr Roy Ah-See
Mr Roy Ah-See was elected to the NSW Aboriginal Land Council in 2007 and has been Chairperson of the council since 2015. He is also voting member of Gandangara Local Aboriginal Land Council.
Mr Ah-See has served on the New South Wales Local Government and Shires Association and works in a voluntary capacity to help Aboriginal men who are experiencing challenges with drugs and alcohol.
ILSC Director, Mr Daniel Tucker
Mr Daniel Tucker was the recipient of the Outstanding Manager award in 2003, which was presented by the Hon. Kevin Andrews MP in Canberra at the Corporate Leaders for Indigenous Employment Awards.

This award was an initiative of the Commonwealth Department of Employment and Workplace Relations, in partnership with a number of Australia's leading businesses, to improve the employment prospects of Indigenous and Torres Strait Islander people.

For more media information or a high resolution jpeg of the supplied image, please use the contact button below.
For more information, please contact the ILSC by clicking Contact Us