NAIDOC Week 2018
This year's theme, Because of Her We Can, celebrates the invaluable contributions that Aboriginal and Torres Strait Islander women have made, and continue to make, to our communities, our families, our rich history and to our nation.
The ILC Group is celebrating this important week by sharing some stories from our Board members and staff on what this year's theme means to them and the women that have made an impact in their lives.

---
Kerrynne Liddle – Executive Director of Change Leadership and Business Improvement, Voyages Indigenous Tourism Australia, an ILC subsidiary.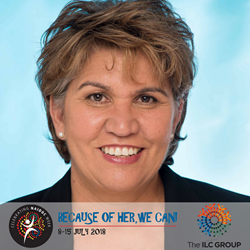 Kerrynne is a Central Arrernte woman, born and raised on country in Alice Springs and now living in Adelaide. Kerrynne joined the Voyages team in May 2018, bringing extensive professional experience and qualifications in public affairs, business and management, and governance.
What does NAIDOC Week mean to you?
NAIDOC is a week to showcase the work of our ancestors, the contribution our people are making today across a wide range of areas and to focus on what individually and collectively we should leave for those who come after us.
What it means to work for the ILC Group as an Indigenous woman?
Working for the ILC Group is important to me as an Indigenous woman as I have the qualifications and professional experience to lead and contribute to the ILC's vision and acknowledge the encouragement, support and respect I am shown by men but also the women within the ILC Group to contribute to Indigenous tourism in this key leadership role.
---
Terri Janke – Deputy Chairperson of ILC subsidiary The National Centre of Indigenous Excellence.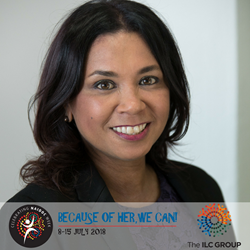 Terri was born in Cairns, with family connections to both the Meriam people from Mer (Murray) Island in the Torres Strait and the Wuthathi people in Far North Queensland. She has lived in Sydney for over 20 years, running her successful law firm Terri Janke and Company.
What does NAIDOC Week mean to you?
NAIDOC means not just Indigenous achievement but recognising that we are beyond survival and thriving.
What it means to work for the ILC Group as an Indigenous woman?
I like being a director for the NCIE in the ILC Group, firstly, because the ILC's work addresses social inequity through economic empowerment and, secondly, the NCIE is about strong culture and the pursuit of excellence and Indigenous women on boards and making economic decisions which can benefit all of us.
Story of a woman in your life who has made an impact?
When I was a young woman, I worked with Banduk Marika on a significant case, the Carpets case. Banduk is a Yolgnu printmaker from Arnhem Land. A company had been fraudulently reproducing her print on carpets. I worked on the case as a young lawyer. She inspired me not only as a great artist, but as a strong Aboriginal woman who fought for her rights. Working on that case sparked my interest in Indigenous Cultural and Intellectual Property and inspired me to specialise in the area.

---
Tricia Button—ILC Deputy Chief Executive Officer
Tricia's family are Kungarakan people from Finniss River on her Grandfathers side, and Waramungu from Tennant Creek on her Grandmother's side.
What does NAIDOC Week mean to you?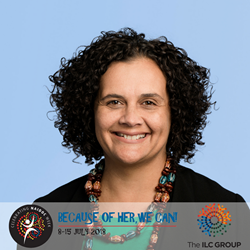 While NAIDOC is about creating recognition, appreciation and respect for Indigenous Australians within the broader community, I must admit I always feel like NAIDOC is our week. It's the time we take time out of our busy lives for culture, family and community. I love NAIDOC events and the opportunity to see old friends and kin. What I love most about NAIDOC is that the light is being shone on us, on our deadly proud and strong people. Seeing our young ones show their pride and culture for the broader community is always inspiring.
What it means to work for the ILC Group as an Indigenous woman?
What struck me on joining the ILC is how respectful our men are of women in the organisation, I think driven more by a sense of family then any distinction between men and women.
I have had huge opportunities in the ILC and have never experienced barriers or this 'glass ceiling' people talk about in other organisations and industries.
I love working for an organisation that is steeped in history and has such an important role. The level of loyalty and pride in the organisation broadly is something I noticed immediately. However, I think it is natural that Indigenous staff carry the pride and loyalty to the ILC's core purpose more so — being part of an institution so important to our people's connection to land and opportunities.
I don't take for granted the role our organisation plays and the contribution we play as Indigenous people.

---
Dr Donna Odegaard—ILC Board Director, Larrakia Traditional Owner, Darwin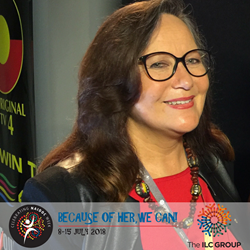 Donna is CEO of Aboriginal Broadcasting Australia, Chairperson of Aboriginal TV and Larrakia Radio.

What does NAIDOC Week mean to you?
NAIDOC Week is the most important time of the year to me. It's a time when we as Indigenous peoples, Aboriginal and Torres Strait Islander peoples, get to celebrate, commemorate, acknowledge and respect each other, our Elders, families, communities, leaders, achievers and especially those who are making a big difference for all of us. This year's theme Because of Her, We Can is very special because the faces, voices and efforts of our women are being raised in such a respectful and deserving way. It shows how important our mothers, grandmothers, aunties, daughters, granddaughters and nieces are; all those women in our immediate and extended families and those young ones out there learning and achieving so much more than was possible in my day. These young women are business women, professional and community workers, each striving to improve their lives and the lives of their family members and communities. I salute Indigenous women of our respective countries and across Australia.
What it means to work for the ILC Group as an Indigenous woman?
As an Indigenous woman, I take my role as a Director of the Indigenous Land Corporation Board very seriously which is what I do in my business and various roles on peak groups. To be part of ILC decision making where real social and economic benefits are being returned to Aboriginal and Torres Strait Island peoples is exactly why I am in this position—to make a difference.
The ILC Board and ILC Group is a great opportunity for Indigenous women to be valued for their contribution, role and voice. There are unprecedented changes happening for the betterment of our people and it is exciting to be on the ILC Board.
Story of a woman in your life who has made an impact?
Many of my Elders and aunties have passed but two women particularly stand out as those I admire most. Firstly, my Mother for the great inspiration she has been all my life—steering her six girls through hardship, struggle and poverty. Secondly, Aboriginal Elder Aunty Kathy Mills, an absolute beacon of strength, resilience and integrity. Because of Her, We Can.