The Indigenous Land and Sea Corporation (ILSC) is proud to have exceeded many of our core performance measures this financial year, despite the challenges of COVID-19.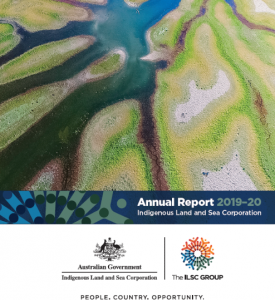 The release of our Annual Report 2019-20 has been tabled in Parliament and demonstrates an organisation successfully achieving its core vision of supporting Indigenous people to enjoy the rightful entitlements, opportunities and benefits that the return of country and its management brings.
One of our most exciting opportunities was the extension of our remit to support Indigenous people in water-related ventures for the first time, with investment in six major projects totalling $6.1 million.
The ILSC is pleased to have exceeded our target in relation to land and water acquisition, with nine interests secured during the financial year, returning almost 85,000 hectares of land to the Indigenous Estate.
Highlights of the financial year include:
208 land and water-based projects acquired or under management
42% Indigenous employment across the ILSC Group (as at June 30)
$5.57 million transferred to Indigenous businesses through the procurement of goods and services
147 Indigenous enterprises assisted through ILSC projects.
Exceeding our targets has ensured the ILSC has made a significant contribution to the Four Pathways of Change, including:
Growing the value and productivity of country:
Created 14 new enterprises
Expanded 101 enterprises
Increased income of 32 enterprises.
Preserving and protecting culture through reconnection with country:
Enabled 20,653 additional Indigenous Australians to access country/cultural sites
Held 485 cultural events
Developed Indigenous food products through 8 projects.
Driving and influencing policy and opportunity for country:
Conducted 8 research projects
Sponsored 4 conferences
Partnered with external parties to deliver 79 projects.
Owning and managing country sustainably:
2, 191 people participated in training
Protected 2,646,700 hectares of environmentally significant land
Protected 264 culturally significant sites.
The Annual Report features key projects across land and water in six case studies. Providing richer insights on expected outcomes and highlighting the various pathways our clients and partners can take to attain these outcomes.
It is with great optimism that the ILSC looks toward 2021, and with the appointment of a new Group CEO, we will continue to support Aboriginal and Torres Strait Islanders to achieve their goals and aspirations for country and their communities.