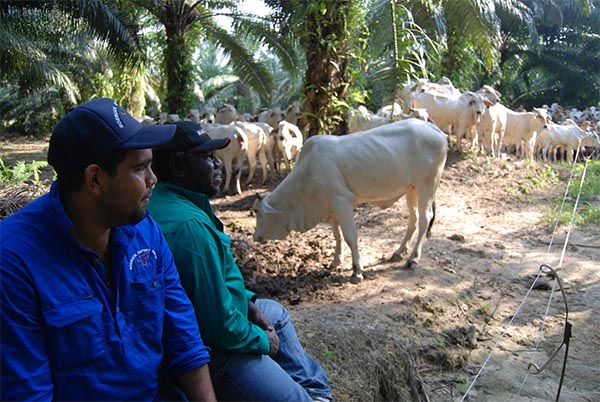 ​It was the trip of a lifetime for two Indigenous stockmen from the Indigenous Land Corporation's northern pastoral enterprises, who spent two weeks in Indonesia exploring first hand South East Asian cattle operations.
Terrance Long, 38, overseer at Gunbalanya Station, Northern Territory, and Robbie Kelly, 24, stockman at Roebuck Export Depot, Western Australia (pictured above), travelled to Indonesia under a partnership between Halleen Australasian Livestock Traders and the ILC's subsidiary company Australian Indigenous Agribusiness Ltd. The stockmen and AIA Business and Planning Support Manager, Peter Cunningham, arrived back in Australia last week with a new found appreciation for the cattle supply chain and Indonesian livestock operations.
The exchange program, in its second year, gives participants the opportunity to develop a broader and deeper understanding of cattle operations once cattle leave Australia and are live exported for processing in Indonesia. As part of the program, the Indigenous cattlemen participated in activities at Sulung Ranch in Kalimantan, visited working feedlots and abattoirs in and around Jakarta, and visited a range of meat markets in Jakarta to get an understanding of how beef is sold in Indonesia. They also got to visit Kalimantan jungle to see local orang-utans.

Trading wide open plains for palm plantations Robbie Kelly said it was a "great experience" to see different landscapes and how the cattle are worked and processed in another country.
  "To see the whole process and to see the finished product at the abattoirs all the way from starting mustering on the stations then loading on the boat was a great experience," Robbie said.
But it was the pride and dedication of the Indonesian stockmen in their work that most impressed him.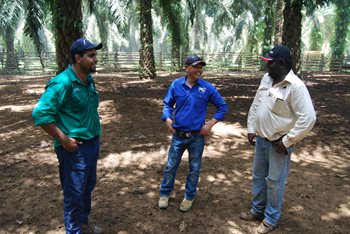 Robbie Kelly (L) and Terrance Long (R) talking to Sulung Ranch manager Pieter Ndoa 
ABC NT Country Hour interview with Robbie and Terrance:
http://ab.co/2HiGVDd

"The workers over there are all great," he said. "To see the pride and effort they put into their jobs and everything they do, they work really hard for a lot less than us in Australia, and it really makes you appreciate what we have over here."
Robbie says the Indonesian stockmen's pride and work ethic is a valuable lesson he will take away from his time in Indonesia.
"It makes me take pride in my job and don't take it for granted," he said. "They don't have the same lifestyle we have but they put a lot into their jobs and they do it very well."
Terrance was also impressed with the low stress stock handling skills of the Indonesian stockmen.
"Their cattle are so quiet and relaxed, they are not stressed and don't fight you," he said.
"I've changed my point of view looking at cattle work," Terrance said. "They put a lot of effort into their cattle, feeding and working with them every day."
AIA stockmen will welcome cattlemen from Indonesia later this year, and look forward to showcasing the Australian side of operations to their South East Asian counterparts.
Terrance looks forward to showing the Indonesian stockmen Indigenous Australian's stockmen skills, horsemanship, and cattle ground work.
Both Terrace and Robbie recommend the program to other Indigenous stockmen.
"It is good to see different country, and meet different people and get out of your comfort zone," Terrance said.
"I wasn't sure about the trip when I first left, but when I got over there, it just blew me away."
"We want to show them as much of our daily processes as much as possible, and are keen to teach them our Australian ways," Robbie said.
"There are lots of differences between Australia and over there, but I think they will enjoy it. I think they will be surprised to see our land compared to theirs."
AIA Chief Executive Craig North said the Halleen Exchange program aimed to show Indigenous Australian cattleman the full scope of the cattle supply chain, and experience Indonesia's unique culture.
"This is one of the learning and development opportunities we provide as part of our Indigenous Employment and Careers Program," Mr North said.
"I am confident the exchange program will offer some unique experiences and perspectives that can be used by our cattlemen to strengthen the foundations of their future career goals."