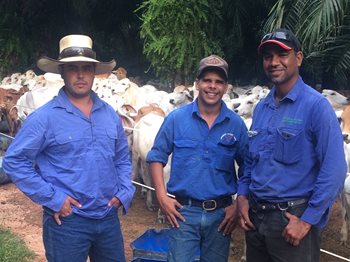 The three jackaroos are based at the Roebuck Export Depot (RED) near Broome, one of Western Australia's biggest live cattle export depots run by ILC agricultural subsidiary National Indigenous Pastoral Enterprises (NIPE). Albert Watson (Myroodah Station, WA), Anthony Walker (Bulimba Station, Qld), and Jimmy Long from RED, pictured right, will visit Jakarta and Pangkalan Bun, a city on the south coast of Indonesian Borneo, in February to coincide with live cattle shipments to the region.
The jackaroos will be hosted by partner organisation Halleen Australasian Livestock Trader. Halleen has been in the Australia-Indonesia beef trade for more than 30 years, and organised hosting for two Indonesian cattlemen in October 2016 at Roebuck Export Depot and this is a reciprocal trip.
John Scott, RED assistant manager said the three week trip is an opportunity for the jackaroos to see overseas operations firsthand.
"This is the first time ILC or NIPE workers have been involved in a trip like this and through our partnership with Halleen there will be more," Mr Scott said.
"We will see a ship discharging cattle, mustering, and cattle processing and visit a breeding operation in Kalimantan province.
"This will give an understanding of why we prepare the cattle for different markets the way we do, bringing them up to 350kg for Indonesia, as they are going into a feedlot scenario.
"Talking with the Indonesian livestock industry will explain to the group why they ultimately desire certain breeds over others."
Australia's northern cattle industry supplies most of Indonesia's growing demand for beef.
"To have the opportunity to see that all the work that happens on a station is just the start of a much bigger industry, and to see that there are many job opportunities after the cattle leave the front gate will be inspiring for young Indigenous people beginning careers in the industry," Mr Scott said.
"It will be great for them to have the opportunity to teach some of our best practice to others.
ILC media contact: Peter Keough 0409 090 852
Attachments
For more information, please contact the ILSC by clicking Contact Us