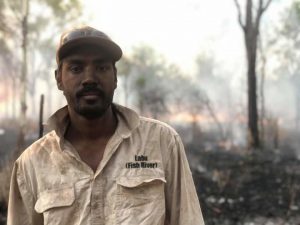 Indigenous rangers in the Northern Territory (NT) spent days battling catastrophic fires in the Top End to prevent the fires from spreading to the environmentally sensitive Fish River Station. The rangers put in a combined 500 hours to reinforce firebreaks, backburn country and tackle spot fires ahead of the front to halt the spread of the devastating fires.
Fish River Station is a 180,000 hectare property 150 kilometres south of Darwin which is operated by the Indigenous Land and Sea Corporation (ILSC) in collaboration with Traditional Owners. The property protects long stretches of the Daly River, with the wetlands home to many threatened and endangered species such as the freshwater sawfish and northern quoll.
Indigenous ranger Ryan Daly said containing the fires was an intense effort. "The size of the fire made us pretty nervous," he said.
"We had to make a plan with the team and started putting in a firebreak. Then we just waited for the fire to come along and started backburning, but the wind was blowing really strong and we had to keep putting out spot fires ahead of the main front."
Ranger Gabriel Cronin said the conditions were extremely difficult. " You could hear the fire roaring coming down the hill, it was very frightening," he said. "It was really hot and smoky, and really windy."
Fish River Station was Australia's first Indigenous project to be approved under the Federal Government's Carbon Farming Initiative, using traditional burning practices in carbon farming.
The Indigenous rangers on the station incorporate traditional burning practices with the latest satellite tracking and mapping technologies. Savanna is burnt earlier in the dry season, reducing the fuel load and severity of late season fires, as well as to create fire breaks in the landscape.
This fire management both reduces the high level of pollution that would be generated by out of control wildfires and protects the threatened animal and plant species found on the property. Fish River was purchased in 2010 by the ILSC in collaboration with the Australian Government's National Reserve System and conservation groups, The Nature Conservancy, the Pew Environment Group and Greening Australia.
ILSC Chairman Eddie Fry said, "The ILSC is proud of the efforts of the rangers in protecting this environmental gem. It reinforces the view that many are coming to understand that Indigenous people are integral to managing the biodiversity of our vast lands and to provide to you the thoughts of those at the front of these fires and the plans initiated by them."