Like many high school graduates, Nhanda-Bardi teenager Timothy Mallard didn't have a firm plan for the future, but when a traineeship at a cattle station in the Kimberley came up he jumped at it – despite never having ridden a horse in his life.
Tim, 18, is from Western Australia's mid North West, but moved to Roebuck Plains Station on Yawuru country in January after six years at school in Perth.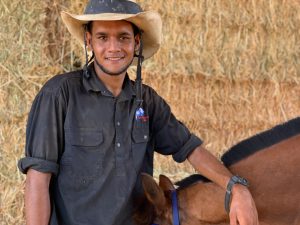 He's just completed the first year of his traineeship with the end of mustering season, which capped off another successful year for the station.
"I never thought I'd be doing this, if you told me months ago this is what I'd be doing, I never would've believed it," Tim said.
"Yawuru country is closer to my country, I love it out here and the traineeship gave me a chance to learn as well."
Roebuck Plains Station is owned by Traditional Owners through their corporation, Nyamba Buru Yawuru Limited (NBY) and leased by the Indigenous Land and Sea Corporation (ILSC), which takes on a group of young Indigenous trainees every year and shows them the ropes of the cattle industry.
Tim Mallard is one of six trainees who was selected from 15 young people who participated in an eight week 'Warrmijala Murrgurlayi' pre-employment program.
Warrmijala Murrgurlayi Program Coordinator Carol-Anne Bernard said the program was created by NBY and delivered in partnership with Transition to Work to assist the ILSC in its recruitment for the 2020 trainee intake.
"The program's focus is to give them skills, develop appropriate behaviours and link them with other services to ensure the transition into fulltime employment is achievable," she said.
Transition to Work Case Manager Kera McKenzie said students were given individual mentoring throughout the course.
"It gave me the opportunity to work in closely with Tim and the other trainees, I was able to be a part of the whole process from recruiting and mentoring and supported them through the pre-employment program, following into their placement at Roebuck Plains Station," she said.
The trainees worked at Roebuck Plains Station while also completing a Certificate II in Agriculture at North West TAFE in Broome.
Tim said how much he had learned already surprised him.
"Mustering cattle, horse-riding, fencing, working the stockyard and driving heavy machinery, I'm learning it all. My favourite part is the riding, it's the first time I've ever ridden a horse and at first I found it scary but now I'm more natural," he said.
"Each person is given two horses and one of mine is an ex-racehorse, so he knows what he's doing and he's fast."
It hasn't all been smooth sailing though, according to Tim.
"Some parts are easy but there are times where it's very difficult because of the heat and the dust. I find it very weird after living in Perth for six years and then coming here straight after high school – it's a huge change," he said.
Luckily for Tim, he's not having to go it alone. This year's group are just the latest to take up the ILSC-run program, which has provided training for almost 150 Indigenous people since it launched in 2008.
Of those, more than half were employed at the Roebuck Plains Station and many others went on to work in other stations in Western Australia, the Northern Territory or Queensland.
The nature of the program means that the trainees have to rely on each other, and Tim said this had led to close friendships among the group.
"I've bonded with the other trainees I would say, I call them my brothers," he said. "We trust each other with our lives, live together and work together."
Tim's traineeship will last for 18 months and he hopes to stick around for another year when he's finished.
Whatever the future holds for Tim, the lessons he has learned through this experience will stay with him.
"Working by myself has taught me to think of new ways to do the job and to rely on yourself," he said.