Last week, the award-winning Mossman Gorge Cultural Centre celebrated its tenth anniversary of operations as a gateway to Australia's outstanding World Heritage listed Daintree Rainforest. The Centre was the vision of Kuku Yalanji elder, Uncle Roy Gibson, who recognised, with the amount of visitors to the Daintree, there was an opportunity to share Kuku Yalanji culture, while providing a pathway of sustainability and leadership for local Indigenous youth. 

The Centre has welcomed over 2.7million visitors and taken over 345,000 people on Dreamtime Walks over the last 10 years.

​At the celebrations, Voyages, in collaboration with Kuku Yalanji elders, announced the name change to the "Mossman Gorge Cultural Centre". This renaming recognises the role the Centre plays in educating and celebrating Indigenous culture. 

The name change will be showcased through a new brand image celebrating the work of local Yalanji artist and Mossman Gorge Tour Guide, Cameron Buchanan.

"Our vision for Mossman Gorge Centre is to keep our culture alive, whilst walking together as one," said Kuku Yalanji elder, Madja Roy Gibson.

For more information on the Centre, visit www.mossmangorge.com.au.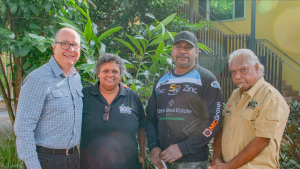 Image Credit: Mossman Gorge Centre