The ILC's agri-business subsidiary National Indigenous Pastoral Enterprises (NIPE) is helping to build a closer relationship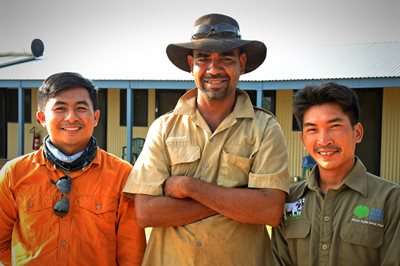 with the Indonesian cattle industry through a new exchange program.
In partnership with Halleen Australasian Livestock Traders, NIPE is currently hosting two young Indonesian cattle industry staff at its Myroodah and Roebuck Plains Station properties near Broome.
They are on exchange in Australia for two weeks to spend time on NIPE properties and learn how an Australian operation works and the skills involved in handling Australian cattle.
The Indonesian visitors have been working with cattle for a number of years but have not had experience on an open range cattle operation. NIPE CEO Craig North said Indonesia was an important market for cattle from NIPE, Indigenous and other mainstream cattle businesses across the Kimberley region.
"As we operate two large stations in the area, as well as the Roebuck Export Depot which loads cattle through the Port of Broome to Indonesia, we see this exchange being mutually beneficial," Craig said.
"This is the first time NIPE has hosted Indonesian visitors along with Halleen and next year we plan to send Indigenous staff over to look at Indonesian operations as part of the exchange.
"We believe the exchange will help build a greater understanding of the opportunities and challenges facing the industry in both countries and develop closer ties with our neighbors," Craig said.
Pictured: Indonesian exchange visitors Yudhis and Dosim with Myroodah head stockman Albert (Redman) Watson.