The ILSC Corporate Plan 2020-2021, Unlocking the Indigenous Estate – Strategy to 2024 continues to build on the ILSC's vision for Indigenous people to enjoy the rightful entitlements, opportunities and benefits that the return of country and its management brings.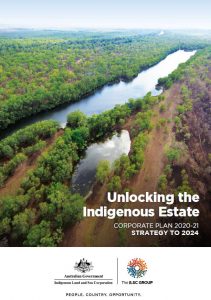 In his 'Welcome from the Board', ILSC Chairperson, Eddie Fry reflects on the past year Australia has faced"…with a catastrophic bushfire season closely followed by the continuing global COVID-19 pandemic… it has been a timely reminder of the role the ILSC can play in recovery and rebuilding efforts…and we are committed to supporting our partners as they pivot and adapt their business models".
"We also remain focused on our long-term vision for the Indigenous Estate; on our purposes – articulated as Our Pathways in this document; and on our commitment to being the trusted partner in developing and protecting the Indigenous Estate," he said.
Outlined in our Corporate Plan, are our four pathways of change:
Indigenous people are maintaining and growing the value and productivity of country
Indigenous people are owning and managing country sustainably
Indigenous people are influencing policy and opportunity for country
Indigenous people are strengthening culture through reconnection to country.