A historic multi-million dollar commercial fishing venture launched today will create jobs and training opportunities for the Ngarrindjeri people in South Australia.
Kuti Co, which is wholly Ngarrindjeri owned, will establish a commercial enterprise to harvest pipis (small clams known locally as kuti) in the Lakes and Coorong fishery.
This venture is being majority funded by the Indigenous Land and Sea Corporation (ILSC). It is expected to provide employment and training opportunities for more than 30 local Aboriginal people over the forward years, as the partnership develops and evolves.
The investment has enabled Kuti Co to acquire a fishing licence and a significant quantity of commercial pipi quota.
Kuti Co will also become a major shareholder in Goolwa PipiCo, Australia's largest pipi processing and marketing company, enabling it to increase its market share of the fishery.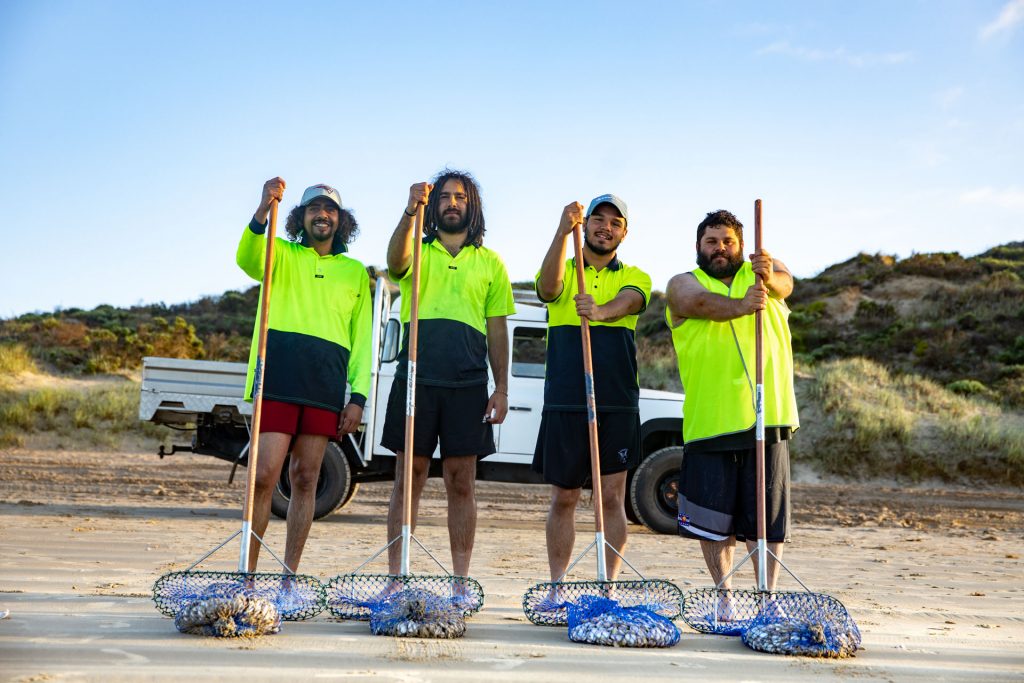 Kuti Co CEO and Ngarrindjeri leader, Derek Walker, said kuti have been harvested, traded and consumed by Aboriginal people along the South Australian coast for at least fifteen thousand years.
"Kuti hold significant cultural and economic importance for Ngarrindjeri people," he said.
"The dunes of the Coorong are littered with middens and campsites containing millions of kuti shells, which is evidence that they were a staple of the diets of our ancestors.
"It has long been an aspiration of the Ngarrindjeri nation to acquire a commercial fishing licence and participate in the fishing economy of our land and waters.
"We are excited that the funding and support we have received from the ILSC and others has enabled our vision to come to fruition."
Goolwa PipiCo Chairman, Roger Edwards shares the same enthusiasm for the partnership.
"What we're doing with the Ngarrindjeri group is breaking new ground," he said. "We hope the success of this venture will translate to other projects of this type in commercial fishing enterprises.
ILSC Chairperson, Eddie Fry, said the launch of Kuti Co seeks to target significant improvement in long-term economic, social, environmental and cultural benefits for the Ngarrindjeri people.
"This venture is expected to create significant full-time employment positions, and training for others, in the harvesting and processing of the Ngarrindjeri-owned quota," he said.

"In addition, the Ngarrindjeri people will be in a position to revitalise cultural practices and knowledge associated with the harvest, trade and consumption of kuti.
"This is a significant investment by the ILSC, and is the first foray into sea country asset and business opportunity investment following a change to our remit to include water based projects earlier this year."
Kuti Co is jointly owned by the Ngarrindjeri Aboriginal Corporation, which represents Native Title holders, and Ngopamuldi Aboriginal Corporation, a small corporation with experience in successfully managing land-based enterprises.
The pipis harvested by Kuti Co are expected to be sold to high-end restaurants, generating a significant annual financial return, which will be reinvested in the Ngarrindjeri community and enterprises.
Kuti Co will be officially launched at a special event at Goolwa Beach on 6 December attended by the Ngarrindjeri community, government and industry representatives and the ILSC.
For more media information, please contact:
Claire Muntinga | Communications Coordinator | Indigenous Land and Sea Corporation (ILSC)
M: 0429 373 348 | E: Claire.Muntinga@ilsc.gov.au