Indigenous people make up just one to two per cent of the market, despite it being an industry founded on Indigenous traditional knowledge and country.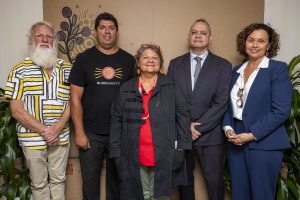 "Every bush food has its own creation story, its own song and dance and cultural knowledge that has been handed down by our ancestors for thousands of years", said Pat Torres Northern Australia Aboriginal Kakadu Plum Alliance (NAAKPA)
The challenge for us is how do we bring our ancient foods into a contemporary industry while maintaining our connection to our culture, because for us, it's not just about money, it's about our identity", she said
The ILSC-funded event brought together 120 Indigenous delegates from across the country representing 83 organisations with an interest in the sector and a keen focus on accessing markets for niche Indigenous products and particularly bush foods.
Delegates discussed key issues including market trends analysis, establishing supply chains, identifying international opportunities and asserting legal rights over knowledge, plants and foods.
A major outcome of the event was the formulation, agreement and delivery of a National Indigenous Bushfood Statement
This led to the registration of a formal entity called the First Nations Bushfood and Botanicals Alliance, with an elected Board of Indigenous people from across Australia which will act as a peak body representing Indigenous interests.
The symposium was followed by the Twilight Blak Markets at the National Centre of Indigenous Excellence in Redfern, where Indigenous businesses showcased their bush food produce and other products.
The ILSC-funded symposium is an example of the ILSC supporting Indigenous Australians to achieve commercial success in the agribusiness sector. The event was delivered by First Hand Solutions Aboriginal Corporation, with support from UTS Business School and Lendlease.