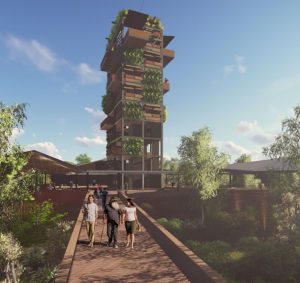 To date, the ILSC has assisted at various stages of this multi-year and collaborative project, also involving PM&C and the Queensland Government.
When completed, the Mandingalbay Yidinji Eco Cultural Infrastructure Tourism Project will comprise tourism and environmental-research facilities, and supporting infrastructure. It will include a 1.1 kilometre boardwalk and single-storey buildings housing a range of attractions, support and administrative spaces, short-term accommodation, food and beverage facilities, retail and seminar/conference spaces and an interpretative centre. Three activity and observation towers will be constructed on the boardwalk, enabling visitors to observe from varying heights and orientation points the site's relationship to Cairns, the wildlife in the inlet, and significant mountain landscapes that are part of the creation stories of the Mandingalbay Yidinji people.
Required technical and economic studies have been completed, including flood-hazard assessment, visual-impact assessment, ecological assessment, business case and demand assessment. A project summary was delivered to potential investors in April 2018. The Queensland Government State Assessment and Referral Agency has recently granted all development approvals. MYAC continues to work with stakeholders, including the ILSC, to raise capital for the first stage of construction.