ILSC land acquisition and land management assistance combined with Queensland Government funding has supported the Iningai people to reconnect to their country to protect and preserve their culture for future generations.
Valuable cultural heritage was at significant risk on Gracevale Station, near Aramac, Queensland, when the Yambangku Aboriginal Cultural Heritage and Tourism Development Aboriginal Corporation (YACHATDAC) sought assistance from the ILSC.
The Iningai Traditional Custodians had not been able to access the property without the owner's consent, and cultural heritage across the 8,870-hectare cattle station had not been formally recorded or studied.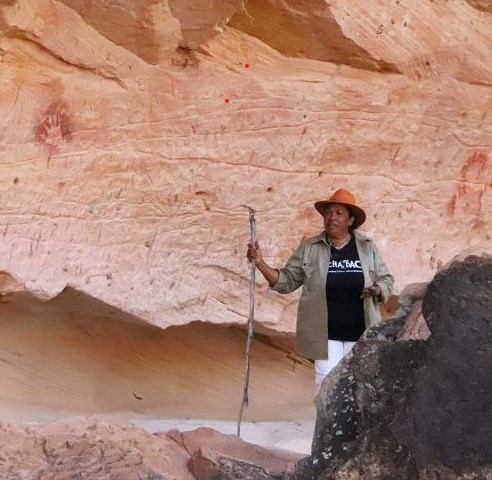 Although a local operator had used Gracevale for tourism, the Traditional Custodians had not been involved and there was no management or monitoring of impacts to the significant rock art gallery.
The property was drought-declared and had reduced carrying capacity when Gracevale became available for purchase.
In April 2019, the ILSC purchased Gracevale Station to support the Iningai Traditional Custodians to reconnect to their country to and pursue opportunities to develop tourism and other socio-economic, cultural and environmental benefits for local Aboriginal people.
In just one year the Iningai people have restored cleared land, excavated disused waterways and reduced cattle numbers on the property.
In October 2020, the Iningai people reopened the rock art gallery to visitors and renamed the property to 'Turraburra' which reflects the traditional name of the area.
"The story wall goes for about 200 metres … and it is filled with tens of thousands of engravings, of paintings and petroglyphs. While it is not certain exactly how old all of the art is, Ms Thompson says thousands of past generations have left their mark. The Iningai people hoped that the work at Turraburra would preserve those stories for future generations."
Iningai woman, Suzanne Thompson