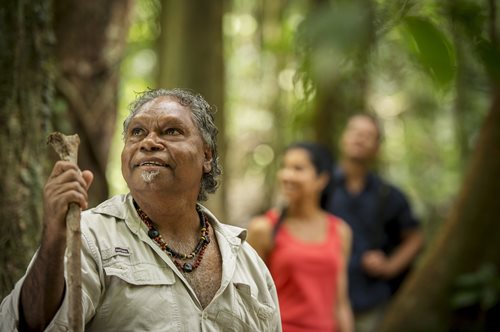 Mossman Gorge Centre is a modern, state-of-the-industry, eco-tourism and cultural centre near Pt Douglas, north of Cairns in Queensland.
It was built by the ILSC in collaboration with the Mossman Gorge Aboriginal Community and Kuku Yalanji Elders to create economic, social, cultural and environmental benefits for the community.
It has been an outstanding success with more than 240,000 local and international visitors passing through its doors in its first year of operation by ILSC-subsidiary Voyages Indigenous Tourism Australia.
Two Dreamtime Walks, which allow guests to gain an appreciation of the Kuku Yalanji culture and connection to the Mossman Gorge area, and learn about the way the community has lived in the rainforest for generations, have proved extremely successful.
Aboriginal and Torres Strait Islander employment is a key outcome of Mossman Gorge Centre and is a key focus of the continued collaboration with the Kuku Yalanji community.
The centre regularly has a 90% Indigenous employment rate. Indigenous students have undertaken chef apprenticeships while other trainees have undertaken a Certificate II in Hospitality.
To assist Indigenous people to achieve employment benefits, a purpose-built, residential training facility has been built next to Mossman Gorge Centre. Up to 20 students can be accommodated at one time as they focus on training in hospitality for placement in employment.