Based in Port Lincoln in South Australia, the joint venture provides Traditional Owners with the opportunity to help shape the future of the Southern Bluefin Tuna industry in Australia.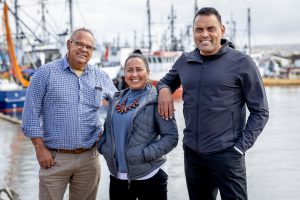 Far West Coast Investments is an organisation representing the interests of native title holders in the region with strong connections to saltwater country, and the Stehr Group is one of Australia's largest Southern Bluefin Tuna producers.
Wanna Mar, meaning 'sea food' in Mirning and Wirangu languages, is a 100% Indigenous-owned commercial fishing venture which has acquired 25 tonnes of Southern Bluefin Tuna quota for traditional waters in the region.
Wanna Mar Stehr Group Director and Traditional Owner Paul Vandenbergh said being partners in a commercial fishing venture on sea country offered incredible opportunities for Aboriginal people.
"For years, Aboriginal people have stood on the shore and watched the tuna fishing boats pass through our country and fish in our waters," he said. "We are proud to be partnering with Stehr Group to change that."
He said future Wanna Mar Stehr profits from the venture would be used to address disadvantage and strengthen local Aboriginal communities, including through education and sports scholarships, and pave the way for other Indigenous groups to participate in the seafood industry.
The ILSC provided Wanna Mar with funding support of $3.5million in 2020 to launch this significant joint venture.
ILSC Group CEO Joe Morrison said it was vital for Indigenous Australians to take equity in the seafood sector in order to be agents of their own economic, social, environmental and cultural success.
"Strategic investment in the Wanna Mar Stehr joint venture is enabling Indigenous Australians to take their rightful place in the fishing industry, and to be front and centre in growing the Southern Bluefin Tuna sector," he said.
"The economic and cultural aspirations of Traditional Owners, and their strategic approach to secure a partner of Stehr Group's standing is tremendous and something the ILSC is proud to invest in."
Read the full joint media release on the ILSC website here or catch the ABC Landline story here.