The handing over of Trelawney Station to the Tamworth Local Aboriginal Land Council (LALC) by the Indigenous Land and Sea Corporation (ILSC) will enable the organisation to expand its education, employment and social services for young Aboriginal people in the Tamworth area.

The handover is the culmination of a five-year partnership between Tamworth LALC and the ILSC to establish training, employment and social programs at the station, set a long-term management plan and put it in a viable financial position.
Trelawney Station, Somerton, is a 766 hectare mixed farming property which features irrigation and grazing paddocks with Peel River access suitable for sheep and cattle operations, as well as newly refurbished accommodation and conference facilities.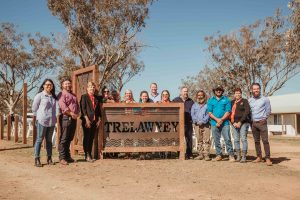 In 2018-19, services had been delivered to more than 80 Indigenous participants at the property, which will now be owned and managed by a local Aboriginal organisation for the benefit of Aboriginal people.

Tamworth LALC Chairperson, Harry Cutmore, said the handover was a significant milestone for the Tamworth Aboriginal community.

Mr Cutmore said the Council's immediate focus is to increase visitation and bookings for Trelawney Station accommodation and conference facilities, and the handover event provided a great chance to show off the potential of the venue.

ILSC Board Director, Mr Roy Ah-See, said the handing over of Trelawney Station to the Tamworth LALC was the result of a successful partnership to achieve positive outcomes for the local Aboriginal community.

Since the LALC has been involved, there have been more than 120 Indigenous school children that have attended programs; 15 people have completed heavy vehicle and excavator training; and there's been four community events with social and cultural activities providing great benefit to the local Indigenous community.