Trelawney Station, a 766-hectare property near Somerton and Tamworth has a history of irrigated and dryland farming associated with livestock enterprises.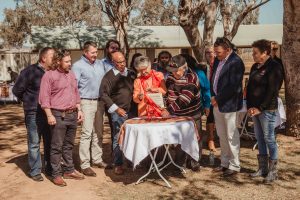 Its facilities and infrastructure support a wide range of agriculture and training activities including a homestead, woolshed and sheep yards, cattle yards, hay and machinery sheds and accommodation and conference facilities.
The return of country to former lessee Tamworth Local Aboriginal Land Council (TLALC) was the culmination of a five-year partnership with the ILSC to establish training, employment and social programs at the station; develop and implement a 10-year property management plan; and to place the property in a viable financial position.
"The handover of Trelawney has given the Aboriginal community important access to traditional country," said Harry Cutmore Tamworth Local Aboriginal Land Council (TLALC) Chairperson.
"Over the past five years, we have been able to use the facilities extensively for our school holiday programs, cultural learning days and training programs for high school students, as well as other community events."
"The assistance we received in putting our farm management plan and business plan in place will ensure our ongoing ability to use the land to its full potential," he said.
Since the return of country, the TLALC has been working to diversify its income opportunities; undertake environmental works including weed and erosion control and revegetation; and pursue training and employment programs.
The agricultural business remains a key investment focus, while the property's newly refurbished accommodation and conference facilities are providing an important source of revenue, hosting a steady stream of visitors as well as cultural and sporting events.