Through our national funding program, Our Country Our Future, the ILSC invests in projects that assist Indigenous people with the acquisition and management of land, and water-based activities, so they can achieve economic, environmental, social and cultural benefits.
Our project profiles demonstrate how our work 'unlocks' the Indigenous Estate' to support Aboriginal and Torres Strait Islander people protect cultural and environmental sites, preserve culture through the reconnection with country, and share traditional knowledge of land and water management.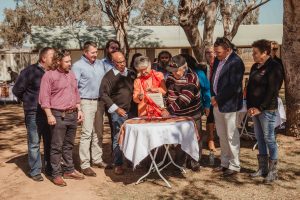 The 'Indigenous Estate' refers to the tangible and intangible aspects of Indigenous Australia collectively held by Indigenous Australians.
Physically, this refers to land under the care and control of Indigenous Australians, alongside the fresh and salt-water country over which there are recognised Indigenous interests.
Less tangibly, it refers to the cultural assets, cultural knowledge and intellectual property collectively held by Indigenous Australians and associated with their country.
Our most recent update features two new project profiles, 'The handing back of Trelawney Station to the Tamworth Local Aboriginal Land Council (TLALC)' and 'the inaugural Bushfood Symposium held in Sydney, New South Wales'.
These two projects showcase how the ILSC can provide support to Aboriginal and Torres Strait Islander people to reconnect to their country, culture and identity.
Learn more about our Project Profiles.