Kakadu Plum, or Gubinge in Western Australia, is a native fruit that grows almost exclusively on Indigenous-held land across northern Australia, from the Kimberley to Arnhem Land. An ILSC funding commitment of $448,000 in 2018–19 to establish an Indigenous-lead Kakadu Plum supply chain has hit its targets. The Northern Australia Aboriginal Kakadu Plum Alliance (NAAKPA), a consortium of nine Aboriginal corporations, is moving towards sustainability.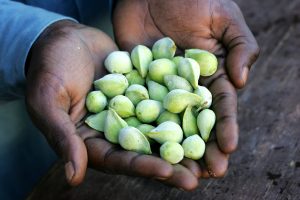 The project supports Indigenous community harvesting and processing enterprises, and facilitates access to Kakadu Plum and its extracts by large-scale markets. The aim is to provide greater Indigenous influence and control in the market and maximise the flow of benefits back to Indigenous communities. To date, work by the ILSC in partnership with NAAKPA has increased demand for Kakadu Plum in the Australian marketplace and increased supply of Kakadu Plum coming from Aboriginal enterprises.
In 2019, NAAKPA members collectively harvested over 20 tonnes of Kakadu Plum with a farm gate value of more than $650,000. Over 400 people, mainly women, were involved in the harvest which generated significant economic, cultural and social benefits on-country.
The project has increased the operational capacity and capabilities of each of the Aboriginal enterprises by providing food safety audits; chemical and microbial testing of fruit; the development of marketing material; and the creation of marketing opportunities, including representation at the Asia Pacific Food Safety Conference. Contract templates for Access and Benefit Sharing Agreements to protect traditional knowledge have been created and buyers are now able to go to one contact point, on the NAAKPA website.
On the ground, funding has been used to buy equipment including stainless steel benches, freezers, packing machines and all-terrain vehicles, and to support travel to facilitate training, networking and knowledge sharing among the Aboriginal member enterprises.
The alliance has grown to become Australia's largest Indigenous-controlled native-food supply network with Kakadu Plum and many other plant food species being distributed to national markets. Based on the success of the project to date, the ILSC is now working with NAAKPA to develop a strategy for the long-term growth and sustainability of the Kakadu Plum and wider bushfoods sector in northern Australia.